It's November 23rd, 2018, counting down to the Thanksgiving holiday. Your company is officially rolling into the most fierce and competitive marketing season of the year: Black Friday and Cyber Monday.

But it could also be the most profit-generating one. In the next month and a half, you will be dealing with the pressure to deliver on sales, profits, and inventory clearouts.

At the same time, you're expected to deliver a lot of holiday cheer to your customers online and offline, to keep them feeling festive and excited to buy All while balancing a limited digital marketing budget.

While it may seem early to even mention the words "holiday season," we compiled some brainstorms for marketers already thinking about this.

It's crucial to have a well-thought-out marketing plan for such critical bottom-line shopping events as Black Friday (November 24), Cyber Monday (November 26), and Boxing Day (December 26). If you are considering making bigger moves in digital this year, here's our summary of our biggest learnings in this space from the past year.

There are a bunch of opportunities here to emerge victorious on what can be a challenging advertising platform. In order to do this, you'll want to:
Elevate your understanding of consumer purchasing habits
Use proper optimization tactics to get efficient marketing spend how your company how to utilize the power of Facebook-first creative for keeping customers engaged and paying attention to what you're promoting or selling


SOME QUICK BLACK FRIDAY OBSERVATIONS
CPMs start to increase by November and reach their highest price between November 25-December 25 (up to 12 per 1,000 impressions)
Clicks are 44% more expensive in Nov-Dec vs. in January
CPMs are 42% more expensive in Nov-Dec vs. in January
CTRs stay relatively flat around 0.64% (on aggregate), and then increase slightly (0.75%) in November prior to Black Friday/Cyber Monday.
This could be explained by a higher volume of clickbait tactics and time-sensitive, holiday deals on products that generate higher interest from consumers in the consideration stage.
Roughly the same amount of ad spend in January brought 40% more impressions and link clicks than in the Nov 25-Dec 25 period.

IMPORTANT DATES: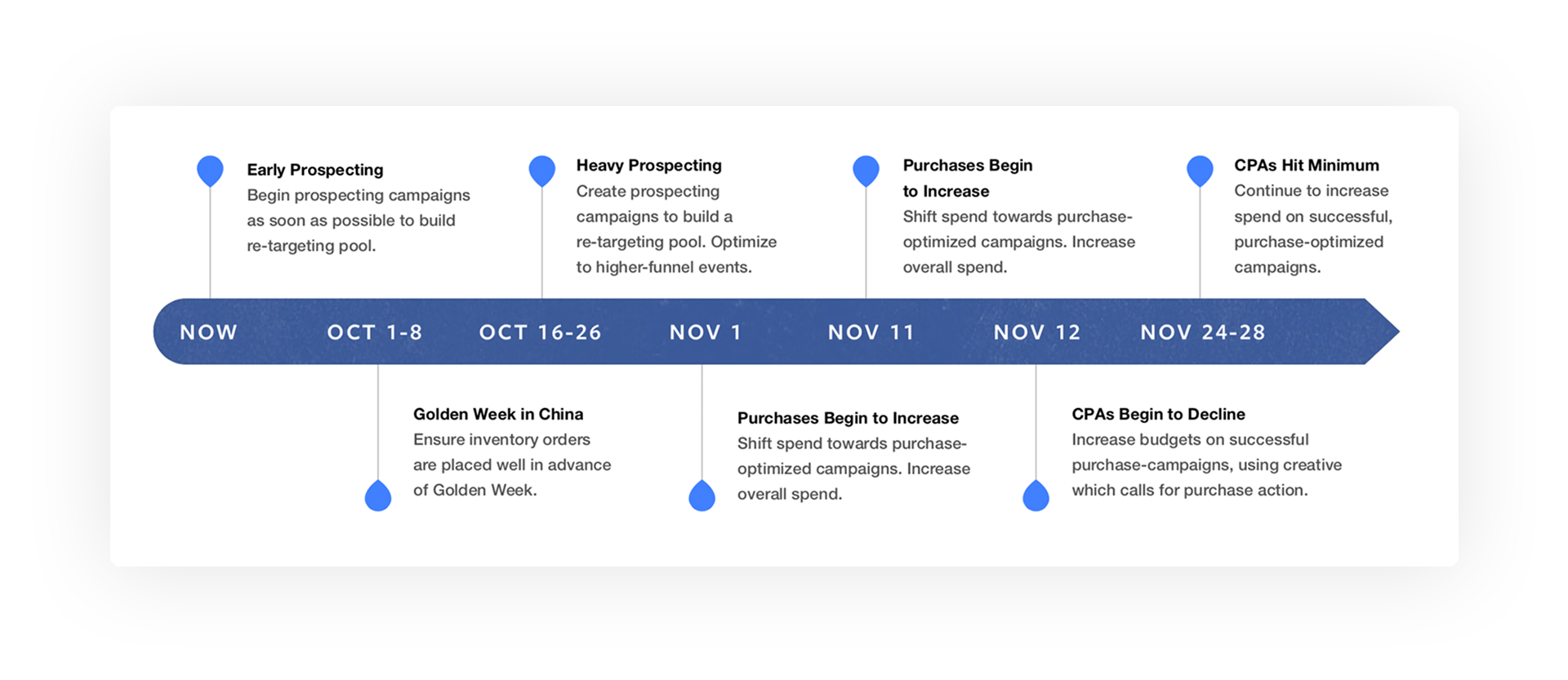 Check out our list of the top 5 things to consider before adding Facebook to your overall media plan. It may look like a Warland at first- especially with the heated CPMs and CPCs – but there is equally as many opportunities to come out victorious on the platform.


1. Don't build your brand in November and December
As most consumers are in the "hunting" stage looking for the best deals out there, competing for their attention is higher than ever. To get ahead of the game, it would be smarter to start your brand awareness and prospecting campaigns in late summer/early fall to take advantage of pre-heated prices on CPMs. Last year, we observed a 22-25% increase in CPMs from Sept-Oct to Nov-Dec.
2. Don't wait until November
Because you will be overpaying for impressions just to educate users on your brand proposition. It's like having to deliver your elevator pitch to someone when there are 3 other "candidates" doing the same thing, standing right next to you! It's not worth it, you might as well pick a different elevator or find a way to turn back time.
3. Create thumb-stopping creative
This is ultimately the toughest mountain to climb for most advertisers on Facebook. Holiday shopping season will make all of your competitors double-down on budgets and promotions while pushing out 100s of beautiful images of their products from all possible angles. But, you can still get an edge if you pay close attention to your creative strategy and move away from static images that scream discounts, Final Sale, or Secret Deals! How cheesy.
 
Instead, consider animation vertical videos, and get into IG stories where you can easily blend in with organic content and where competition is still not as fierce as in the Feed! Here are a few tips from the Abacus team who are experts on mobile-first Facebook creative:
Vertical over horizontal videos
Deliver the brand message in less than 3 seconds
Keep videos under 15 seconds.
Design for both Mobile and Desktop (see illustration below)
Even if you animate the word "Sale," the video asset will do better than a static image – this is proven. Plus, a nice bonus with video assets is that you can easily retarget users who saw it but didn't click. You cannot do the same with static images!

4. Choose your advertising objectives wisely.
This is where common sense blends with tactical execution. If you have an e-commerce store with 10-1000 products, try Catalog Sales instead of Website Conversions.
 
Dynamic Product Ads tend to outperform Website Conversion ads since Facebook optimizes the delivery of ads to the user's preferences, past browsing and shopping histories, and you free up time from building single-product ads over and over again.

To push users to the store, pick a low-hanging but meaningful enough conversion event such as an Add to Cart page or Payment Information page.
 
Test your copy and creative variations using Dynamic Creative optimization to learn which products, video types, background colors and offer messaging works best. Apply these findings to your catalog sale/website conversion ads and scale them.
 
Avoid using the Website Traffic or Brand Awareness/Reach/Video Views objectives during the peak shopping season (November 1-28th).

Focus instead on increasing through-traffic (prospecting) that qualifies for retargeting and close users with a deal they can't pass up (remarketing).

Leave all brand building activities to after the holiday season when everyone is overly-saturated with material acquisition. That's your time to build relationships and deliver your elevator pitch.
5. Pay attention to analytics!
The holiday season is probably the best time of the year to test a whole lot of ideas, gather statistically significant learnings, and build a pool of insights to refine your strategies or even a product.
 
Facebook provides a wealth of analytics and insights into conversion funnels, user journeys, retention rates and cross-device conversions. Take advantage of all these to analyze your audience, the effectiveness of your marketing and positioning messages, and understand the intricacies of cross-device, multi-touch journeys.
 
If there is a time to step up your analytics and data digging activities, it would be during the crazy busy holiday season when consumers reveal so much about their decision-making patterns.
 
Thankfully, Facebook provides great tools to make this data game more actionable. Abacus clients enjoy early access to a great new Facebook tool called Attribution which sheds light on the complicated topic of digital marketing attribution, and the ongoing need to reconcile data between FB and Google Analytics.
 
We have a few keys to unlock this grey box if you're interested. 
Summary
Have you started planning your Black Friday/Christmas marketing strategy yet?

Even if you're laying on the beach at this very moment and staring at white sand, let's chat.

We'll help you strategize your Christmas campaigns and discuss how we can help you reach your sales targets this holiday season with our Facebook-first creative, in-depth analytics and expert media management services.