Strength of a two-pronged strategy and creative approach lead Abacus to run yet another successful campaign for Canada's leading pizza delivery restaurant.
TORONTO, ON (DATE) –  Abacus Growth Agency ran an insightful social media campaign for one of Canada's leading pizza restaurants with over 700 locations, Pizza Pizza. With the intention of giving friends and families everything they needed to enjoy a game night in, the core of the campaign was based around a partnership between Pizza Pizza and Mattel Canada, which provided customers across Canada with an exclusive meal deal in celebration of the iconic card game UNO®'s 50th anniversary.
The four-week social media campaign focused on at-home entertainment and driving incremental orders of the UNO® Combo, which consisted of one large three-topping pizza, three cans of Coke, and one deck of limited edition Pizza Pizza UNO® cards. With the goal of driving as many website and in-app orders as possible while maximizing the return on ad spend, Abacus developed a two-tier strategy for this campaign. The tried-and-true approach utilized a funnel with both prospecting and retargeting phases, with the entire campaign being optimized towards online orders.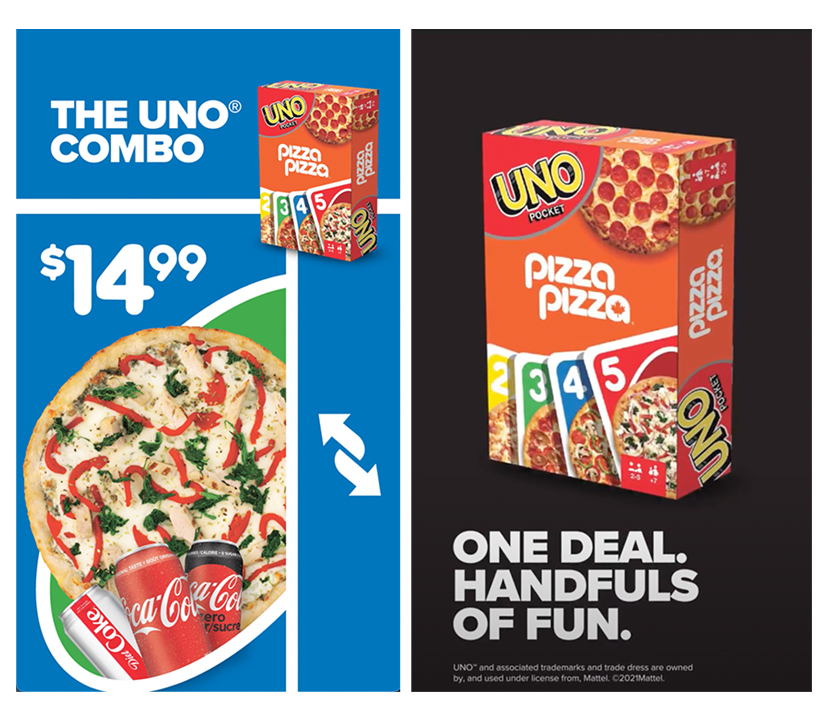 This was the largest multi-channel campaign that Abacus had ever created for Pizza Pizza, and one of their most lucrative to date with a 17x Return on Ad Spend (ROAS). Featuring remarkable work from the creative team, the campaign ads were tailored to TV and social channels including Facebook, Instagram, Snapchat and TikTok. For the first time ever, the team embraced the different trends on TikTok to test them against each other, thus expanding the campaign's reach and driving top results.
Abacus' creative team worked to create attention-grabbing visuals that embraced the unexpected pairing of the two iconic brands, with simple yet effective storytelling. The creatives were able to draw on the prominent colour schemes of both brands, while successfully delivering the campaign's key messaging that was focused on at-home entertainment. "Our team wanted to convey more than just the deal being offered," said Adam Mohammed, Creative Director of Abacus. "It was the combination of powerful copywriting and stand-out visuals that allowed us to smoothly unite both Pizza Pizza and UNO® for this campaign."
The team's outstanding work resulted in more than 11 million impressions for the campaign and delivered a cost per thousand impressions (CPM) significantly lower than the industry average.
"For over 50 years, Pizza Pizza has believed that hot, fresh food and family experiences go hand in hand. This incredible collaboration with Mattel Canada was a natural fit for us, and we're very pleased with how Abacus helped to bring it to life, including tailoring the creative by media platform," said Amber Winters, Marketing Director of Pizza Pizza Ltd.
For more information about Pizza Pizza, please visit https://www.pizzapizza.ca.
About Abacus Growth Agency Inc.
Abacus is a leading full-service digital company assisting businesses with digital transformation. By balancing brand building and performance marketing, Abacus has helped numerous clients as either consultants or digital AOR. Rogers Sports & Media, Lindt, Campbell's, Pizza Pizza, and Cameo have all scaled effectively in a digital world through Abacus' future-focused lens. www.abacus.agency
About Pizza Pizza Limited
For more than 50 years, Pizza Pizza Limited has been guided by a vision of "Always the best food, made especially for you", with a focus on quality ingredients, customer service, continuous innovation and community involvement. With more than 700 locations across Canada, the company is Canada's pizza pioneer and a quick-service restaurant leader, operating two banners – Pizza Pizza and Pizza 73 – that deliver quality food choices, diverse menus and exciting promotions for all tastes, lifestyles and budgets. Visit www.pizzapizza.ca and www.pizza73.com for more information.
If you would like more information about this topic, please get in touch.