Today saw the launch of Instagram Reels: a new way to create and discover short, entertaining videos on Instagram aimed to knock TikTok off it's #1 spot as the most downloaded app around.
Reels, launched today (August 5th) invites users to create "fun videos to share with their friends" or promote to their brand audience on Instagram. With media attention focused on TikTok and its touch-and-go relationship with regulators and privacy, Instagram's launch of Reels is seen as the first true competitor to give ByteDance's global juggernaut a run for its money.
Robby Stein, Instagram's product director, told The Verge that while TikTok popularized the short video format, the two products are different.
"I think TikTok deserves a ton of credit for popularizing formats in this space, and it's just great work…But at the end of the day, no two products are exactly alike, and ours are not either."
With Reels, Users can Record and edit 15-second multi-clip videos with audio, effects, and use new creative tools designed to steal some thunder from the meme-ready tools provided by ByteDance's TikTok or Snap Inc's Snapchat. Users can share reels with their followers on Feed, and, if using a public or brand account, make them available to the wider Instagram audience through a new space in Explore. Reels in Explore are a new feature designed to offer anyone the chance to become a creator on Instagram and reach new audiences on a global stage, and offer brands another high-visibility channel to reach audiences through Reels Ads.
How Instagram Reels Work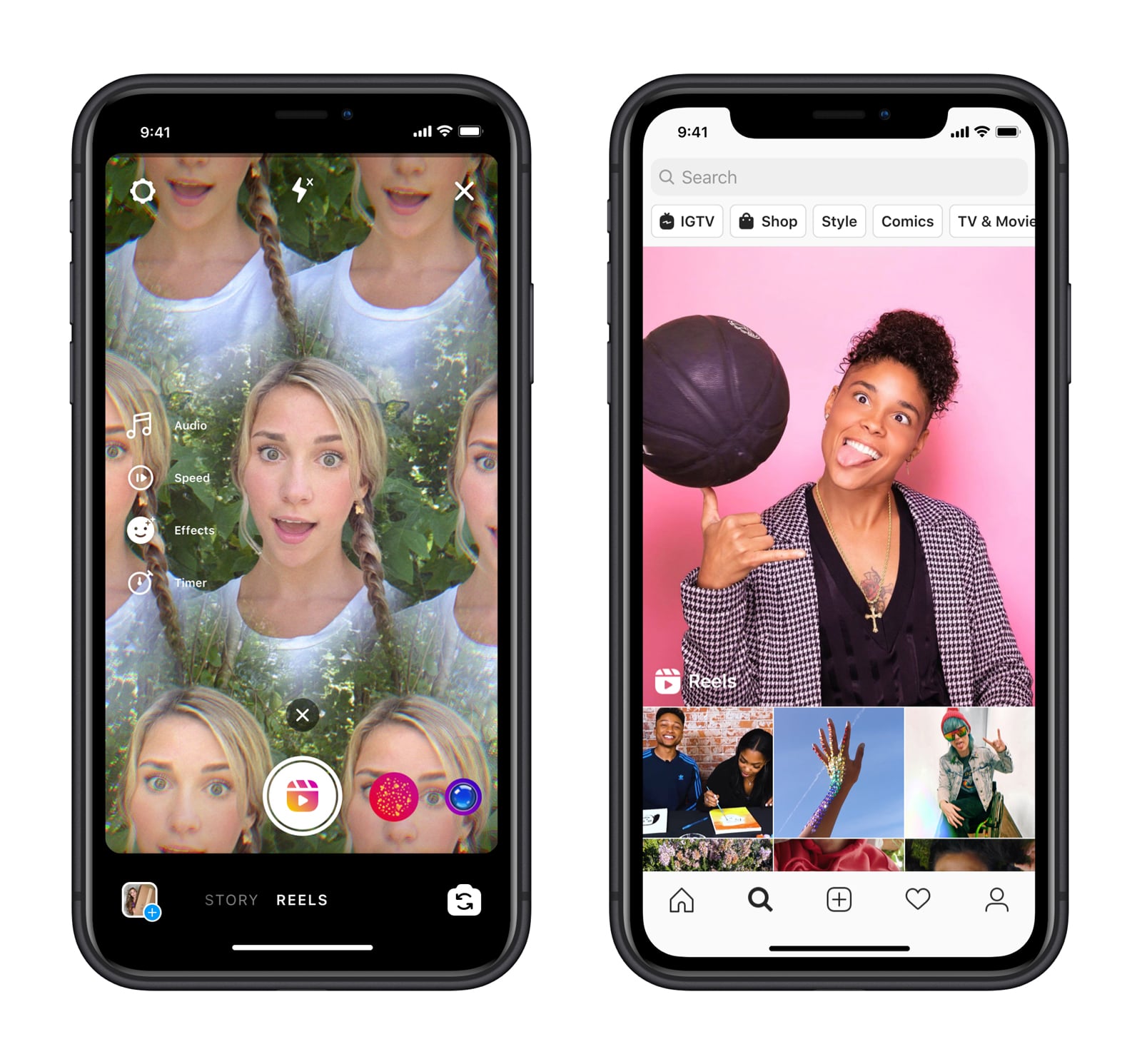 How To Create Instagram Reels
To create a 'REEL' for your brand or business, Select Reels at the bottom of the Instagram camera. You'll see a variety of new editing tools on the left side of your screen to help create your first video, including:
Audio: Search for a song from the Instagram music library (these are location dependant, so be aware of what may not work for a global audience) . You can also use your own audio by simply recording a reel with it. When you share a reel with original audio, your audio will be attributed to your brand account, and if you have a public account, people can create reels with your audio by selecting "Use Audio" from your reel. As always, make sure you have any licenses needed to use music for your brand!

AR Effects: Much like Snapchat, you can select one of the many effects in the Instagram Reels effect gallery to apply in real time. These effects are created both by Instagram's internal team and creators all over the world. Your brand can also create an AR effect to help promote new products or events.

Timer and Countdown: Set the timer to record any clip hands-free. Once users press record, a 3-2-1 countdown appears before recording begins for the amount of time you selected. These hands free tools are great for small businesses or creators to help be creative with tight resources.

Align: Line up objects from your previous clip before recording your next to help create seamless transitions for moments like outfit changes, sight gags, or adding new users into your reel for TikTok like viral challenges.

Speed: Choose to speed up or slow down part of your REELS or audio you selected. This can help creators stay on a beat or make slow motion videos to add extra impact.
Instagram Reels can be recorded in a series of clips (one at a time), all at once, or using video uploads from your gallery, there's no end to the possibilities.
How to Share Reels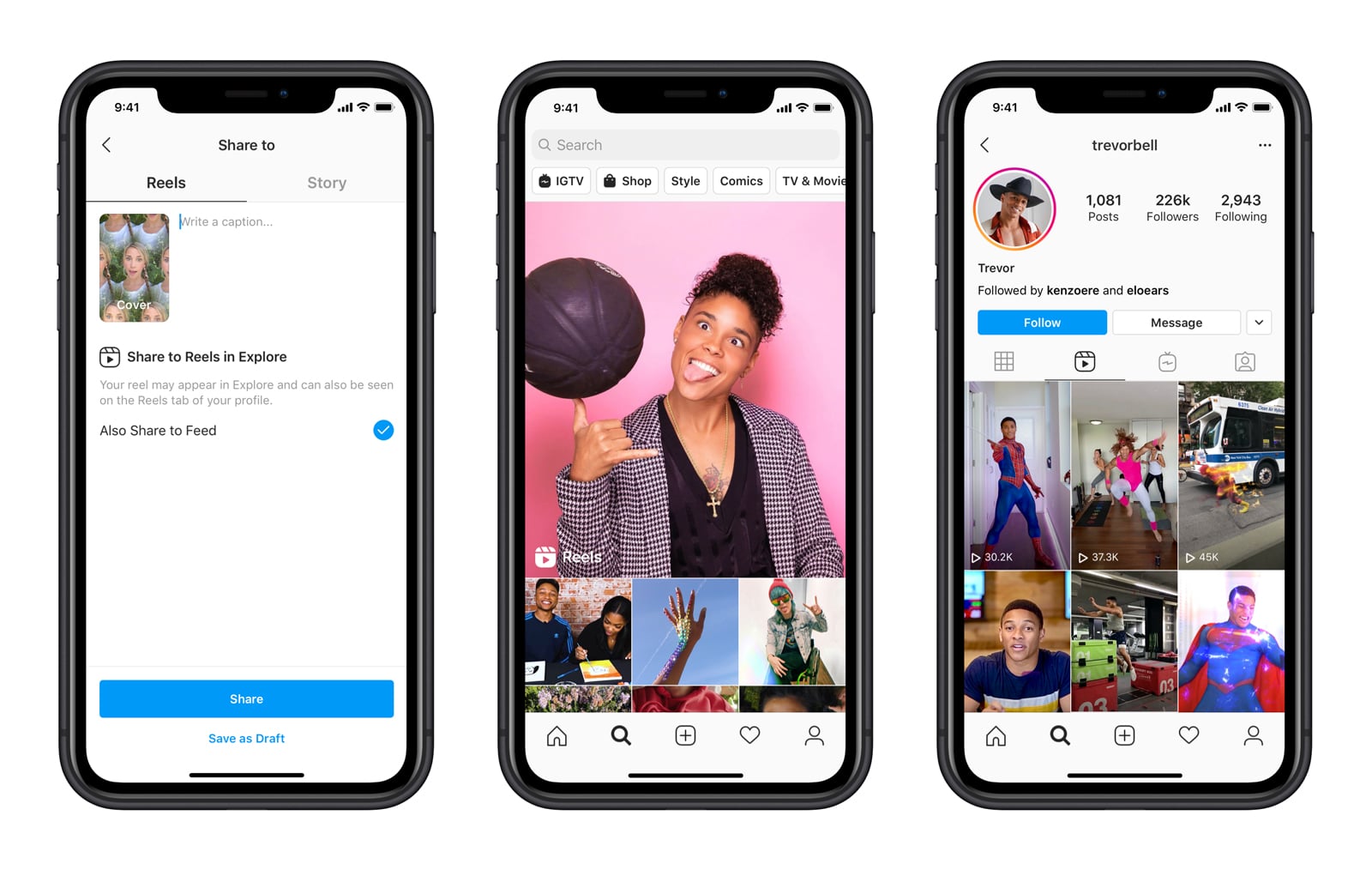 With Reels, brands can share with their followers and can be discovered by the huge, diverse Instagram community on Explore.
If you have a Public Account: Your brand or business can share a reel to a dedicated space in Explore, where it has the chance to be seen and discovered by the wider Instagram community. You can also share your reel with your followers by posting it to your Feed. When you share reels featuring certain songs, hashtags, or effects, your reel may also appear on dedicated pages when someone clicks on that song, hashtag, or effect, so be aware of brand safety at all times!

If you have a Private Account: Reels follows your privacy settings on Instagram. While most brands will be business accounts, you can choose to share to Feed so only your followers can see your reel. Other users will not be able to use original audio from your reels, and people cannot share your reels with others who don't follow you.
Once a reel is ready, move to the share screen, where you can save a draft of your reel, change the cover image, add a caption and hashtags, and tag other accounts. After you share an Insatgram Reel, it will live on a separate Reels tab on your brand profile, where users can find the reels you've shared.
If you also share to your Feed, your reel will appear on your main profile grid, though you have the option to remove it.
Whether you have a public or private brand account, you can share your reel to your Story, close friends, or in a direct message. If you do so, your reel will behave like a regular Story — it will not be shared to Reels in Explore, it will not appear on your profile, and it will disappear after 24 hours.
How to Watch Instagram Reels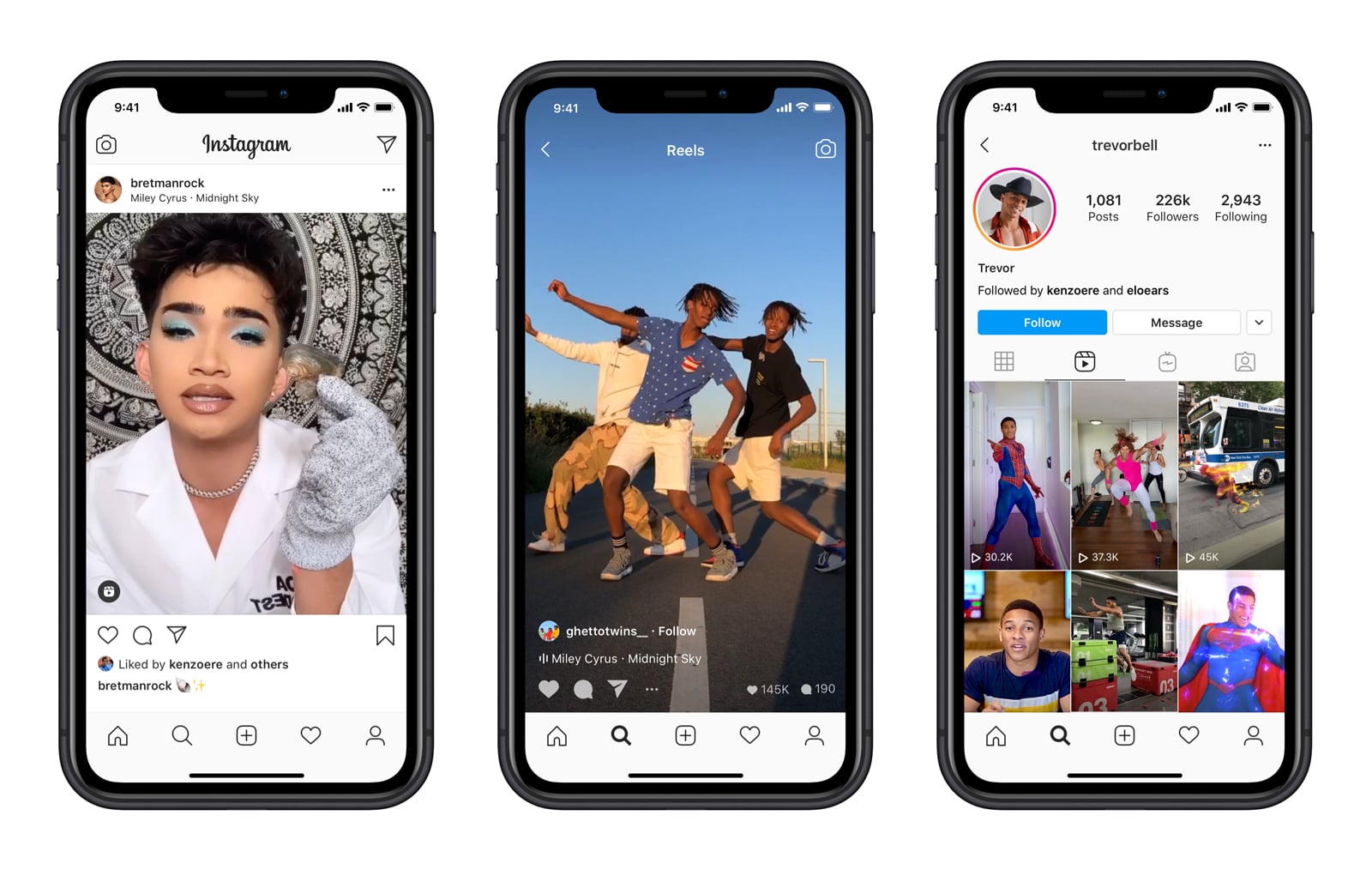 Instagram Reels in Explore showcases the best of trending culture on Instagram and can be an incredible way to kickstart your brand awareness on Reels. Users can see an endless and entertaining selection of reels made by anyone on Instagram, in a vertical feed customized for them.
Some reels will appear in the feed with a "Featured" label. If a reel is featured in Explore, you'll receive a notification to your brand account. Featured reels are a selection of public reels chosen by Instagram to help you discover original content they hope will "entertain and inspire you".
"We're going big with entertainment and [making Explore] the permanent place for you to go lean back, relax, and be inspired every day," Robbie Stein said. "It's our hope that with this format we have a new chapter of entertainment on Instagram.".
Want to talk about bring your brand to Instagram REELS? Drop us a line.