TORONTO, ON (April 19, 2021) — Abacus Growth Agency Inc., a Toronto-based digital consultancy firm and ADCANN's Agency of the Year, has partnered with licensed producer WeedMD and its adult-use brand Color Cannabis™ to launch Big on Terps, a social media campaign that promotes the brand's cannabis portfolio of big flavour and aroma.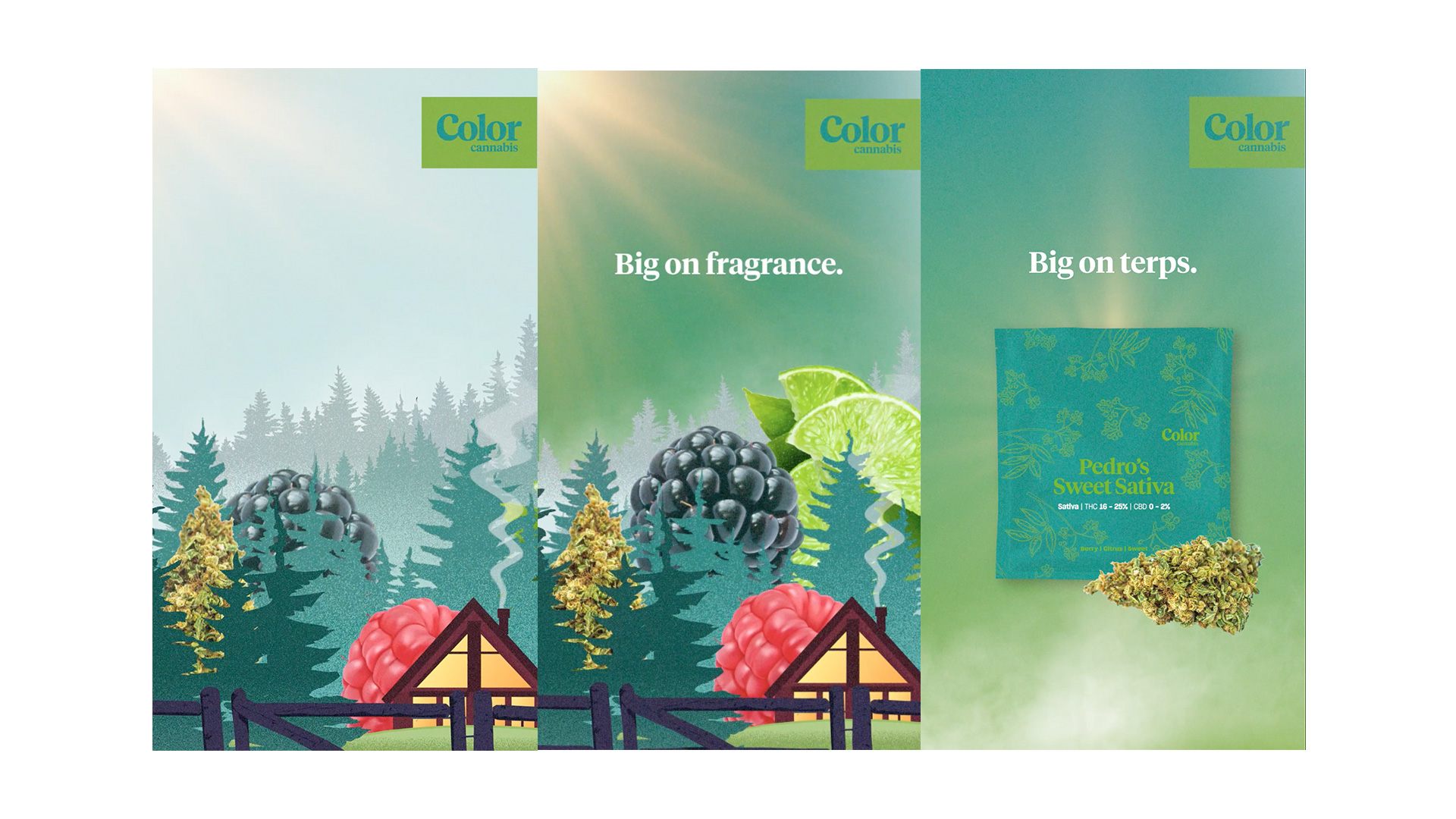 The campaign draws on Color's leading in-market position to showcase its award-winning cannabis portfolio, and demonstrates Color's commitment to preserving terpenes. From its nitrogen-infused, terpene-labelled-packaging, and recent addition of Boveda Terpene Shield™ humidity control packets to all Color pouches, the teams at WeedMD and Abacus have joined forces to expand consumer's product knowledge and brand reach. With the spotlight on the power of Color's terpenes, or terps — naturally-occurring compounds that dictate each cannabis cultivar's aromatic characteristics — as it aims to help consumers realize that big terps are an instrumental component of their connection to the plant.
"As an industry-leading brand recognized for delivering celebrated strains and terpene profiles, Color Cannabis is attracting an array of discerning consumers looking for products that boasts flavours and aromas reminiscent of a distinct experience," said Nikki Thomas, Senior Marketing Manager, Color Cannabis and WeedMD. "We wanted to convey that opening a Color pouch releases a bouquet of aromas that could evoke a special cache or memory. Abacus has helped us achieve this through its brilliant visual campaign that instantly connects us to an elevated cannabis experience."
Abacus came up with a simple way to express the unique consumption experience of buying Color Cannabis: terpene-specific environments and larger-than-life visuals of individual flavours crafted by the art department, all depicting mobile-friendly scenes that express the combination of flavours, fragrance and freshness of each strain. "Having a client that wanted to be all about one thing for a campaign was a blessing. It allowed the creative team to really build a world that was true to the product's experience," says Adam Mohammed, Creative Director at Abacus.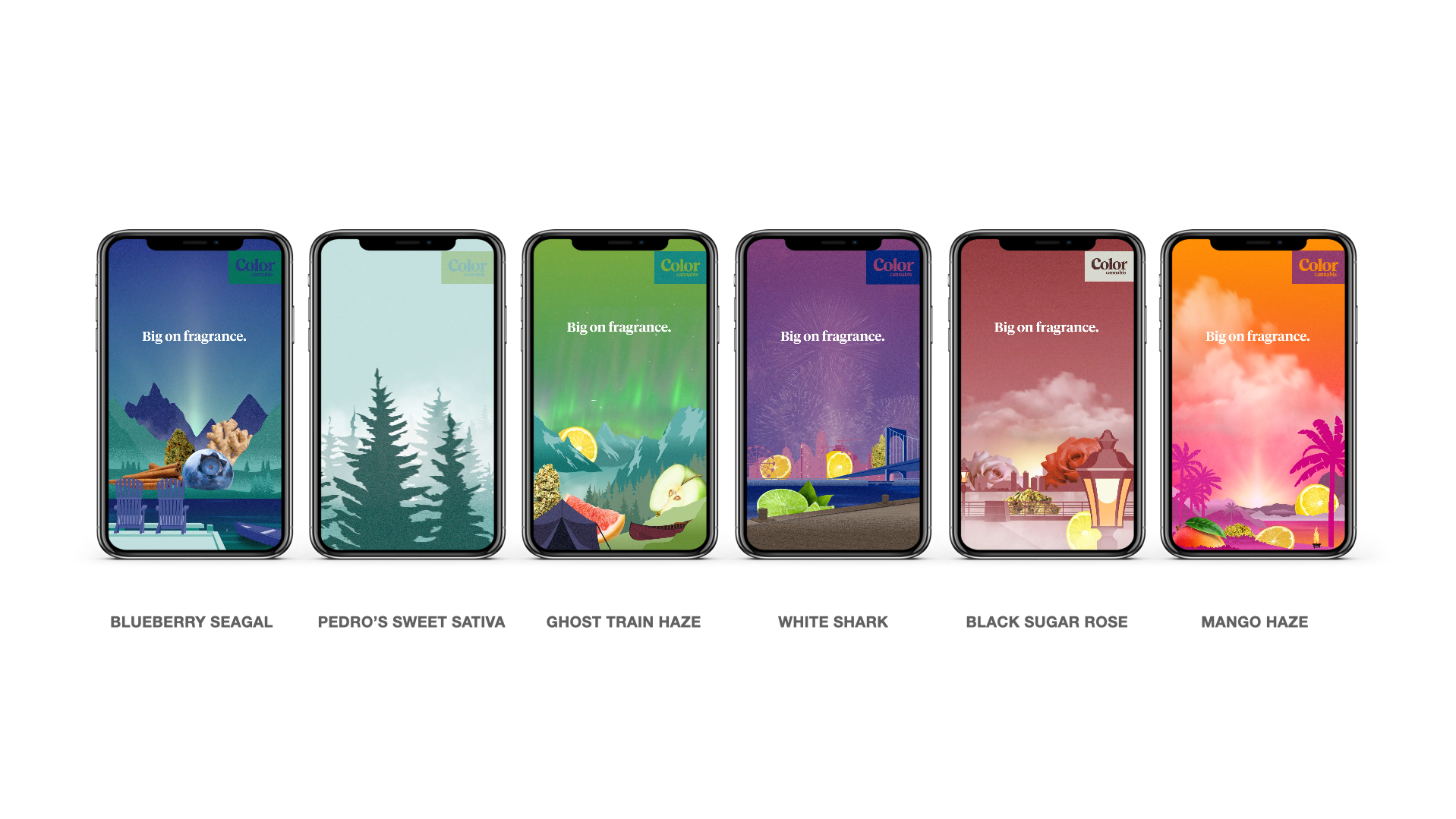 Abacus and Color Cannabis introduce consumers to cultivars Pedro's Sweet Sativa, Ghost Train Haze, Black Sugar Rose and Mango Haze. The presence of their unique terpene profiles visually detail how they translate into aromatic and familiar flavours.In a category where brands are accustomed to going small — mostly due to regulatory constraints, Color Cannabis found a way to breakthrough by going big (on terpenes).
Big on Terps will be supported on Snapchat and Twitter.
About Abacus Growth Agency Inc.
Abacus is a leading full-service digital company assisting businesses with digital transformation. By balancing brand building and performance marketing, Abacus has helped numerous clients as either consultants or digital AOR. Rogers Sports & Media, Lindt, Campbell's, Pizza Pizza, and Cameo have all scaled effectively in a digital world through Abacus' future-focused lens. www.abacus.agency
About WeedMD Inc.
WeedMD Inc. is the publicly traded parent company of WeedMD RX Inc. and Starseed Medicinal Inc., licence holders producing and distributing cannabis products for both the medical and adult-use markets. The Company owns and operates a 158-acre state-of-the-art greenhouse, outdoor and processing facility located in Strathroy, ON as well as a fully-licensed 26,000 sq. ft. Aylmer, ON processing facility, specializing in cannabis extraction. With the addition of Starseed, a medical-centric operator, WeedMD has expanded its multi-channeled distribution strategy. Starseed's industry-first, exclusive partnership with LiUNA, the largest construction union in Canada, along with employers and union groups complements WeedMD's direct sales to medical patients. The Company maintains strategic relationships in the seniors' market and supply agreements with Shoppers Drug Mart as well as seven provincial distribution agencies where adult-use brands Color Cannabis and Saturday Cannabis are sold. www.weedmd.com
Color Cannabis is a trademark of WeedMD Rx Inc. used under licence.
Terpene Shield is a trademark of Boveda Inc.