Leveraging Instagram Ads is one of the fastest ways to build your business. The social platform currently has 1 billion users, half of which are on there every single day. Further to that – 82% of the people on Instagram are between the ages of 18 and 49.

In this guide, we'll cover how to create and launch an Instagram ad campaign.



Table of Contents
Instagram Account Requirements
You don't need an Instagram account to run ads on Instagram but it is highly recommended. If you don't add an Instagram account to your Facebook Business Manager or through your FB Page settings, there are some things you'll need to take note of:
 Your Facebook Page's name and image will automatically be ported over to your Instagram ad so that people can recognize your business and branding.
 You won't be able to respond to comments on your ad.
 Your Instagram username will automatically be your Facebook Page's name. It will also be grayed out and won't be clickable. If your Facebook Page's name is longer than the IG handle character limit, it'll be shortened with "…"
The Five Main Instagram Ad Types
Photo Ads

Photo ads are the oldest and original ad format on Instagram. You'll run image ads in either square, landscape or vertical format.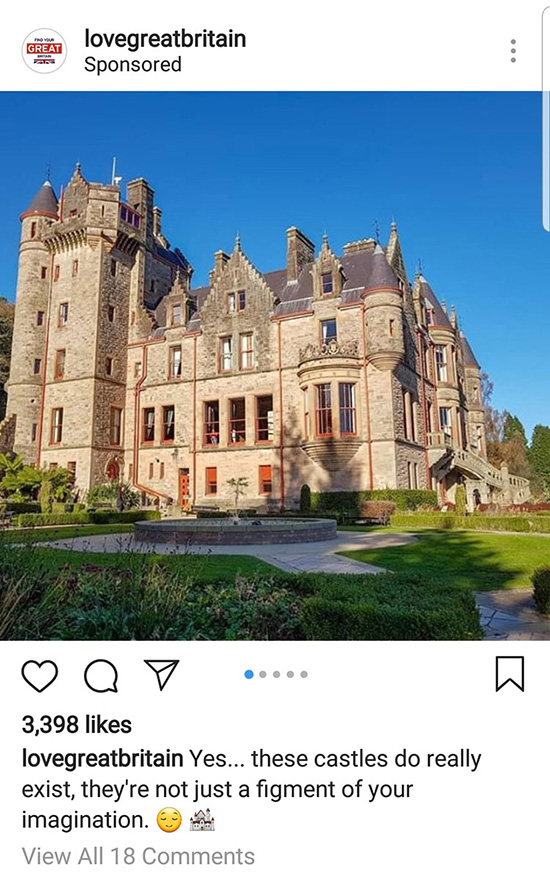 Video Ads
Video ads have taken Instagram (and the web) by storm. All the visual power of a still image but with the added of sight, sound and motion. Currently, you can post videos up to 60 seconds long in the landscape or square format.

Carousel Ads
Things become interesting with carousel ad campaigns as people can swipe to view additional photos or videos within a single ad.


Stories Ads
Instagram Stories is the fastest growing product in Facebook History. Stories crossed 300 million users in its first 13 months (Oct, 2016 to Nov 2017). The user base now sits at 400 million accounts with one-third of the most viewed stories coming from businesses.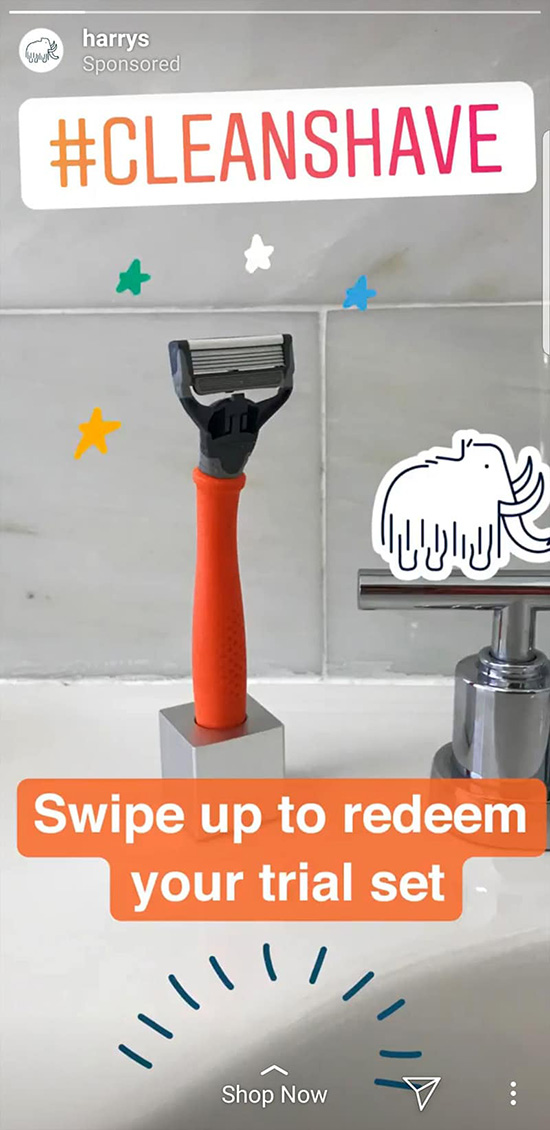 Collection Ads
You can build a discovery engine for your audience to browse and purchase your products via Collection ads.


Ad Placement Options
You have two options for Instagram ad placements. Ads in feed and ads in stories.
You also have three ways to create Instagram ads. 'Ad creation' from within the ad manager (ad campaign) dashboard…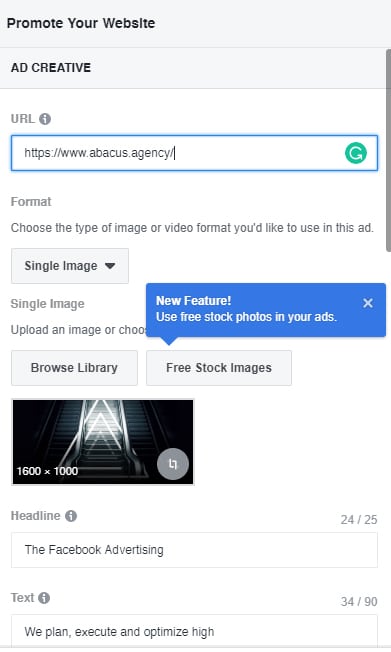 Instagram ads can be created in ad creation.

Or directly from your Instagram Account or Facebook Page.
In order to create ads from your Instagram profile you'll need to ensure two things:
Your account has been converted to a business profile
You are an admin on the Facebook Page connected to the Instagram account in question.

Note: If you haven't already converted your Instagram account to a business profile go toSettings > Switch to Business Profile > fill in the details about your business category and contact info > tap Done.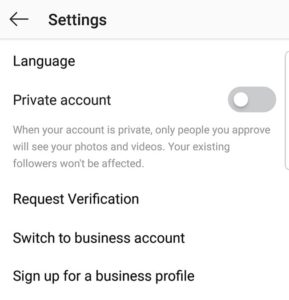 Promoting posts
Go to your profile and tap on the post that you want to promote.
Underneath the post's image, you'll see 'Promote'. Tap on it.
Set your audience parameters, budget details and the duration you want your ad to run. Tap Next. Now tap Promote to launch your promotion.

Promoting stories
Promote an active story:
On your profile tap your profile picture and access the story.
Below of the story's image or video, tap Promote.
Complete the details (audience, budget, duration) and tap Next. Tap Promote to launch your promotion.
You can promote:
Active stories – active stories will expire on your profile after 24 hours but will run as an ad for as long as you've set the duration for.
Highlighted stories – stories which are pinned to your profile.
Archived stories – expired stories that are saved on the Instagram servers.

You can expect your promotion to be reviewed—usually within 60 minutes—to ensure it aligns with Facebook's ad policies.
Design requirements and recommendations for Instagram feed ads
Here is a list of design recommendations and requirements to help you create high-quality ads for in feed placement.

1. Image Size
The recommended image size for Instagram ads will depend on which format you want to use:
Square
Minimum Resolution (600 x 600 pixels)
Maximum Resolution (1936 x 1936 pixels)

Landscape
Minimum Resolution (600 x 315 pixels)
Maximum Resolution (1936 x 1936 pixels)

Vertical
Minimum Resolution (600 x 750 pixels)
Maximum Resolution (1936 x 1936 pixels)

Note: When you're building your ad in ad creation, use Crop Image to help ensure your Instagram ad looks the way you want it to.

2. Video Size
Your videos must be under 4 GB in size.

3. Caption Length
You can add up to 2,200 characters into the caption of your Instagram ad. The caption will show up below the image.

4. Aspect Ratio
The aspect ratio for Instagram ads will depend on the format that you use. All feed photo and video dimensions are supported (from 1:91 to 4:5).
Square – 1:1
Landscape – 1.91:1
Vertical – 4:5
A Note about Website URLs in Captions
It's recommended that you don't use URLs in your Instagram ad's text (caption). URLs are not clickable from the ad's text field.
Instagram Instant Experience Component Specifications

You can create Instant Experience ads that run across both Facebook and Instagram. The components and ad formats you use must be compatible on both platforms.
Once you select an ad format and choose your Instant Experience components, you can select the Feed placement for Instagram and the Feeds placement for Facebook to run ads across both.
You can utilize Instant Experience in the Instagram feed with the following ad formats
 Single Image
 Single Video
 Slideshow

Supported Instant Experience components across Facebook and Instagram
Headers – are fixed images that remain at the top of your Instant Experiences.
Buttons (linking offsite) – you define the offsite URL by entering the address into the Button Link field.
Instant Storefront (photos only)
Photos
Text blocks – you may add text to your IE by selecting 'Text Block' under the Add Component button.
Regular video
Product set

Instant Experience does not support the following components
 Store locator – a component that directs people to your store based on their current location.
 Product tagging
 Offers

Other things to take note of:
 Linked Instant Experiences will not be clickable.
 Instant Experiences DOES NOT support the Tilt to pan, tap to expand, 360 video or photo and link to app store features on Instagram.
 Instant Experiences won't be able to run on other placements or platforms if you select Instagram Stories as your placement.
 You can use placement asset customization with Instant Experience campaigns to customize the available ad formats, but not the experience itself.
Photo Ad Format Design Specs
Please note that your image assets must adhere to the below specifications:

Images: Square, landscape, or vertical
Image Ratio: 1:1 (square) / 1.9:1 (landscape) / 4:5 (vertical)
File Type: .jpg or .png
Min Resolution:
600 x 315 px (1.9:1 landscape)
600 x 600 px (1:1 square)
600 x 750 px (4:5 vertical)
Max Resolution: 1936 x 1936px
Max File Size: 30 MB
Captions: Text only, max 2,200 characters
Photo Ad Call-to-Action Options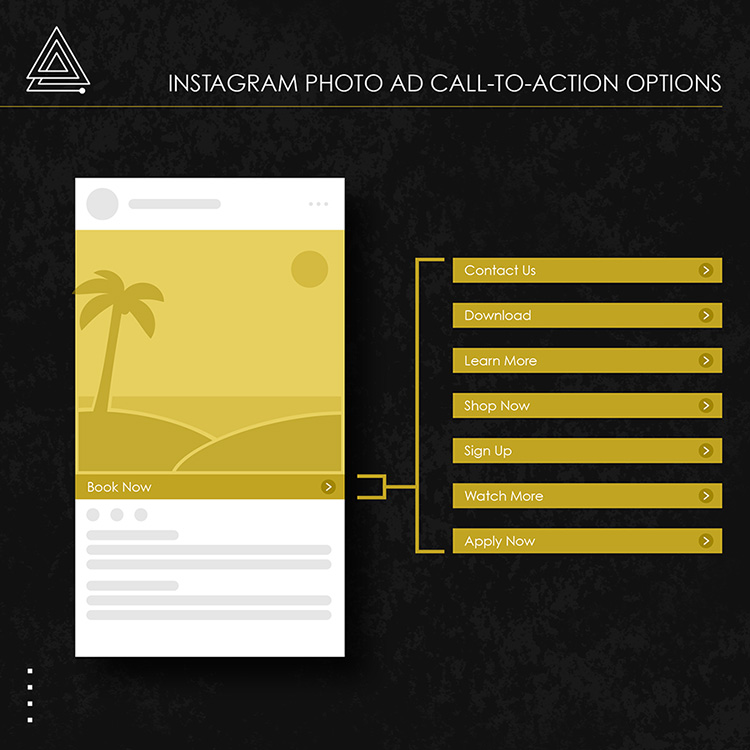 Book Now
 Contact Us
 Download
 Learn More
 Shop Now
 Sign Up
 Watch More
 Apply Now
Video Ad Format Design Specs
Videos: Square, landscape, or vertical
Image Ratio: 1:1 (square) / 1.9:1 (landscape) / 4:5 (vertical)
File Type: .mp4. (full list of supported file formats here)

Instagram recommends using the MP4 or MOV format, but here's the complete list of the video formats that can be uploaded:
3g2 (Mobile Video)
3gp (Mobile Video)
3gpp (Mobile Video)
asf (Windows Media Video)
avi (AVI Video)
dat (MPEG Video)
divx (DIVX Video)
DV (DV Video)
f4v (Flash Video)
flv (Flash Video)
gif (Graphics Interchange Format)
m2ts (M2TS Video)
m4v (MPEG-4 Video)
mkv (Matroska Format)
mod (MOD Video)
MOV (QuickTime Movie)
mp4 (MPEG-4 Video)
mpe (MPEG Video)
MPEG (MPEG Video)
mpeg4 (MPEG-4 Video)
mpg (MPEG Video)
mts (AVCHD Video)
nsv (Nullsoft Video)
ogm (Ogg Media Format)
ogv (Ogg Video Format)
qt (QuickTime Movie)
tod (TOD Video)
ts (MPEG Transport Stream)
VOB (DVD Video)
WMV (Windows Media Video)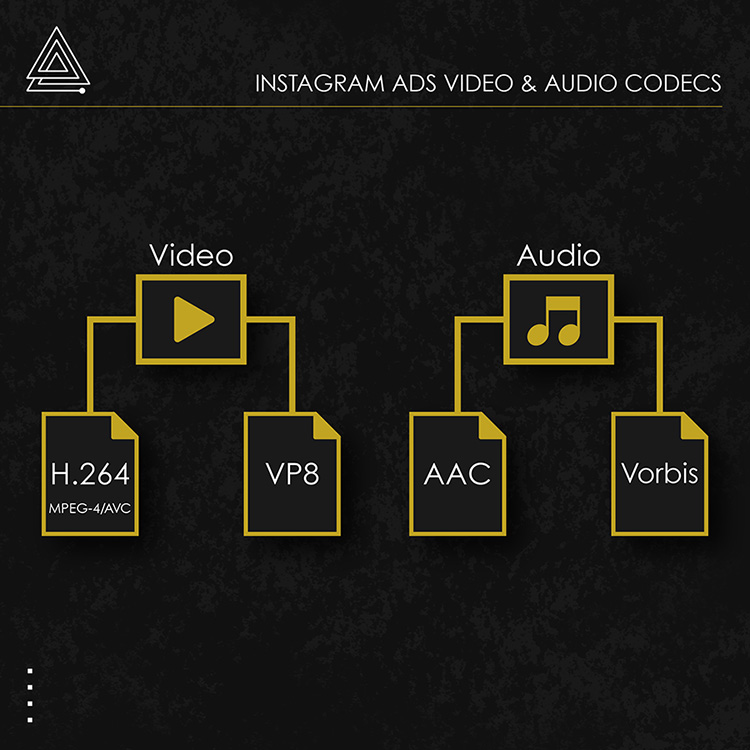 Supported video codecs:
H.264, VP8

Supported audio codecs:
AAC, Vorbis

Min Dimensions:
600 x 315 px (1.9:1 landscape)
600 x 600 px (1:1 square)
600 x 750 px (4:5 vertical)
Max Dimensions: 1936 x 1936 px
Min length: No minimum
Max length: 60 sec
Max file size: 4GB
Frames: 30fps max
Captions: Text only, max 2,200 characters
Video Ad Call-to-Action Options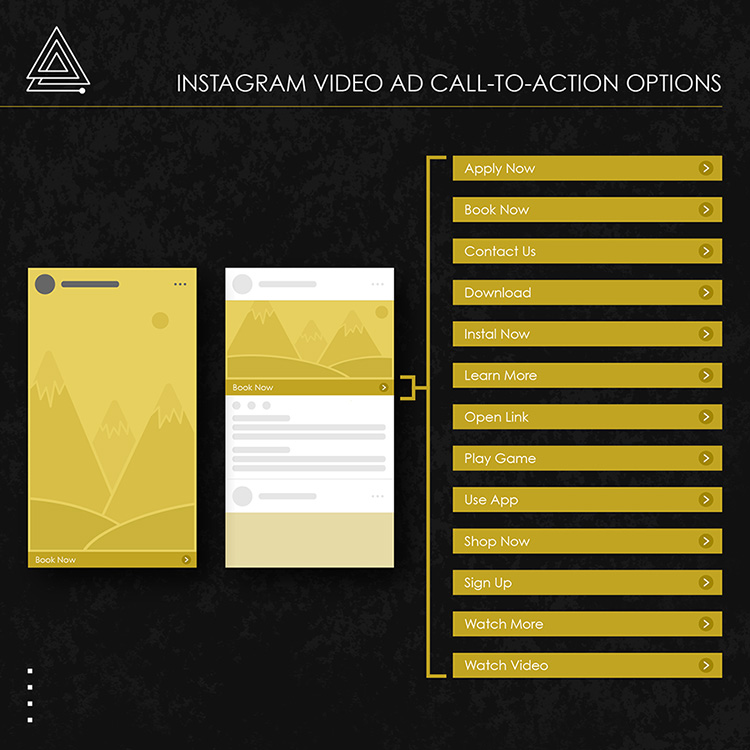 Apply Now
 Book Now
 Contact Us
 Download
 Install Now
 Learn More
 Open Link
 Play Game
 Use App
 Shop Now
 Sign Up
 Watch More
 Watch Video
Carousel Ad Format Design Specifications

Carousel ads enable advertisers to inspire people with deeper storytelling through the use of multiple photos or videos.
People who see carousel ads can swipe to the left of the initial image that appears in their feed, allowing them to view additional images.
Advertisers can select from multiple call-to-action buttons that link out to additional information.

Your assets must adhere to the below specifications:
Images: Square photos with 1:1 aspect ratio
File Type: .jpg or .png
Min Dimensions: 600 x 600 px
Max Dimensions: 1080 x 1080 px
Min File Size: None
Max File Size: 4GB
Captions:
Max Characters: 2,200
Each card can drive to a unique URL with a custom caption per card
Carousel Unit:
Min: 2 photos or videos, 2 links, 2 captions
Max: 10 photos or videos, 10 links, 10 captions

Carousel Ad Call-to-Action Options
 Apply Now
 Book Now
 Contact Us
 Download
 Install Now
 Learn More
 Play Game
 Use App
 Shop Now
 Sign Up
 Watch More
 Watch Video

Note: Available calls-to-action vary based on your objective.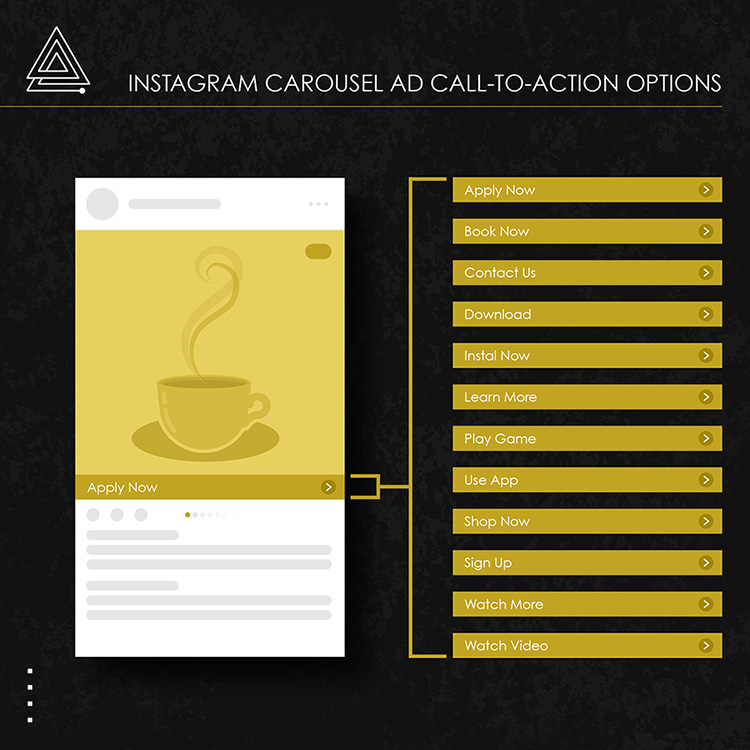 Instagram Stories Ads
Instagram Stories ads are a rich format that are generating real business results. By combining Facebook's ad targeting, audience reach and analytics you're dealing with a forward-thinking ad platform.
Instagram Feed: fast scrolling and instantaneous content discovery.
In-Stream: Dedicated video watching. Viewers are immersed in this content.
Stories: The user experience becomes interactive via tapping and swiping.
Stories is the fastest growing product in Facebook History.
 Oct 2016 – 100M
 Jan 2017 – 150M
 April 2017 – 200M
 July 2017 – 250M
 Nov 2017 – 300M

And now as you're reading this, there are 400 million accounts using Instagram Stories.

Squarespace has moved a significant amount of ad budget into Instagram Stories ads.
Here are some statistics about Stories for you to chew on:
 40% of Instagram Stories are in the video format.
 60% of Stories video posts have the sound on.
 20% (1 in 5) of Stories receive a direct message.

And some further stats as to why you should consider Instagram Stories ads.
 50% of businesses with Instagram profiles create a Story in each month.
 A third of the most viewed Stories on Instagram originate from businesses.

Instagram Stories is a Highly Effective Way to Get Your Brand's Story Out There.
By crafting creative storytelling content on a vertical canvas you can quickly drive brand awareness that will both get shared and build loyalty.
Design Specs and recommendations for Instagram Stories Ads

Format

Recommended File types
.mp4 or .mov (for Video)
.jpg or .png (for Photos)

Maximum File Size for Ads
4GB (for Video)
30MB (for Photos)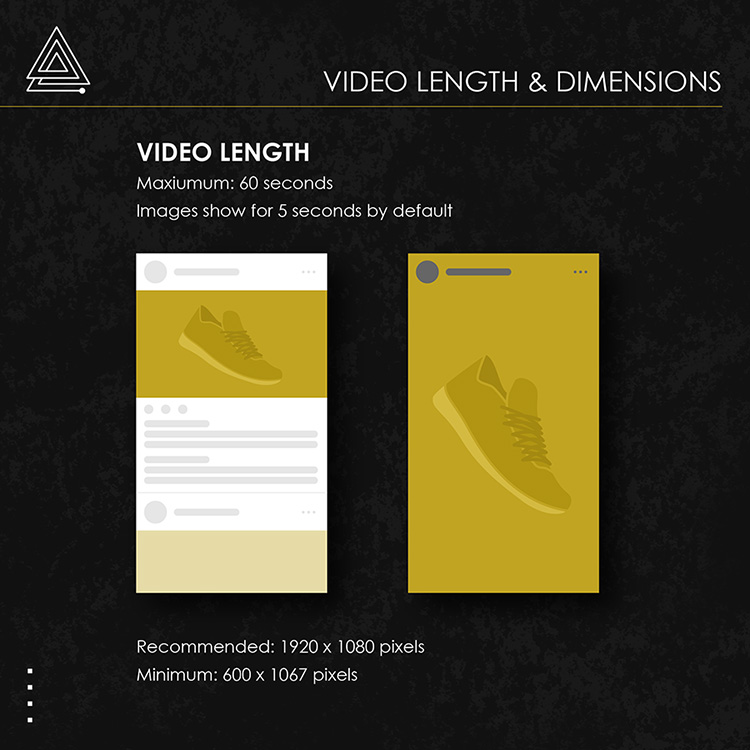 Video Length
Maximum: 60 seconds
Images will show for five seconds by default.

Dimensions
Recommended Resolution: 1080 x 1920
Minimum: 600 x 1067

Supported Video and Audio Codecs
Video: H.264, VP8
Audio: AAC, Vorbis

Available objectives:
Reach, Video Views, Traffic, Conversions, and App Installs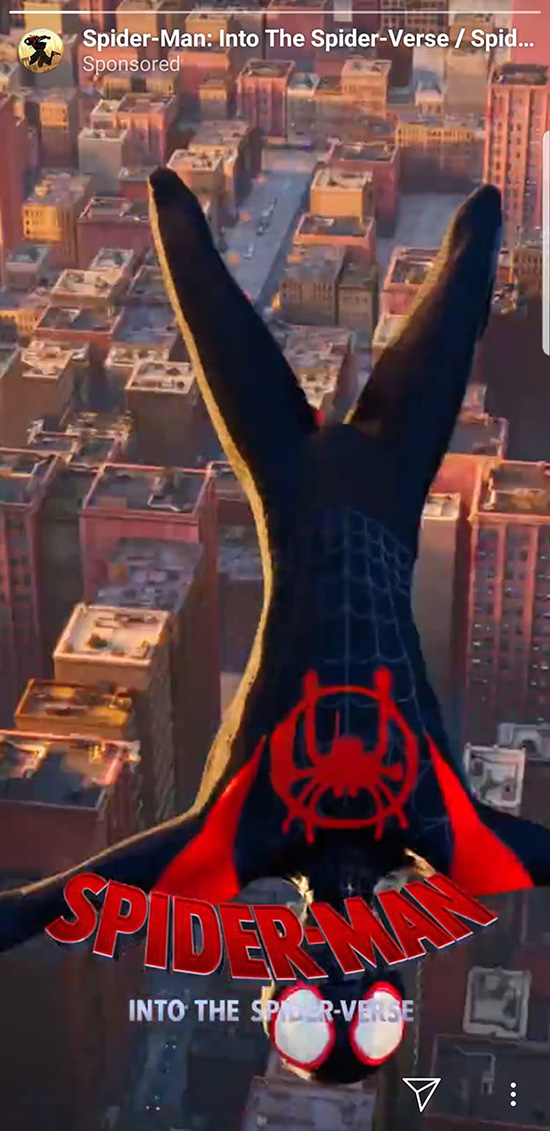 Marvel Entertainment ran an Instagram Stories ad campaign leading up to the release of Spider-Man: Into the Spider-Verse.

Tips for Crafting More Successful Stories
 Use Speed as a creative tool. Have your message front and center within the first 2 seconds of your ad.
 Use multiple scenes edited together as opposed to a single video sequence. Keeping your Story to less than 15 seconds with faster scenes will vastly outperform longer clunky Stories.
 Sound adds relevance (and higher relevancy scores) to your Story – but design for sound off.
 Make sure your brand is prominent both at the beginning and end of the video.
Instagram Ad Objectives
Instagram offers several objectives for each stage of your marketing goals. Not all ad objectives available on Facebook are available on Instagram, so we're only going to discuss objectives supported by Instagram ad placements.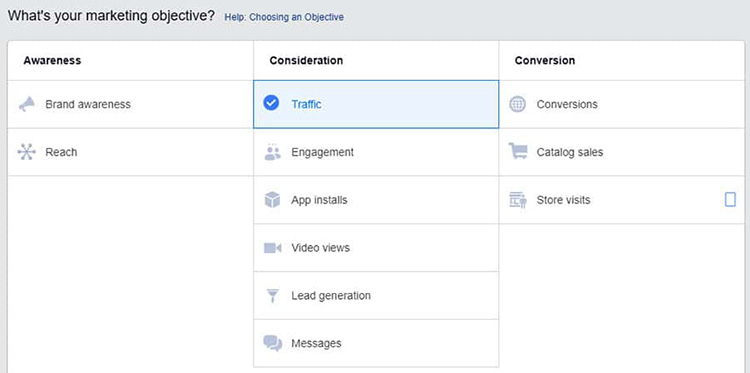 Awareness
Brand Awareness – to increase the extent to which your customers are able to recall or recognize your brand. You can employ photo, video, carousel or slideshow ads for this objective.
Reach – this objective will apply for your campaign if you are looking to expose your ad to an audience that's greater than 200,000 people or are targeting an entire country.

Consideration
Traffic: You're looking for website clicks by driving visitors to specific pages, or mobile and desktop app engagement. Photo, video, carousel, or slideshow formats are available for this objective.
Engagement: App Engagement – use this objective to get more people to engage with your Instagram post on the platform. You're looking to gain likes and comments on the actual ad itself. You'll be using the photo, video, carousel, or slideshow formats here.
App Installs – your objective is to get visitors over to the App Store or Google Play to install your app. You'll want to pair a strong call to action with a photo, video, carousel, or slideshow ad.
Video Views – using video to showcase your products and business is a smart (almost necessary) tactic. Instagram videos ads allow you to harness the power of sight, sound, and motion.
Lead Generation – using a lead form ad—which appears natively in Instagram feeds with some info already pre-filled—allows you to efficiently collect customer information.

Conversions
Conversions – use the Conversions objective alongside the Facebook pixel to track website conversions. To track app install conversions you'll need to install the Facebook SDK to measure app events.
Product Catalog Sales – you can promote products to people who have previously visited your site or mobile app. PCS allows you to push out product ads to peak their interest and motivate them to return to your site and complete a purchase. You would use this objective when targeting visitors who have browsed, added to cart or have previously purchased items from your site.
Store Visits – use this objective to drive people into your store if they're nearby. This works especially well if you have multiple store locations. You can layer on a call-to-action button to your ad including 'Call Now', 'Get Directions' and 'Learn More'.

Placement Optimization
You have the option to extend your campaign to Stories by choosing 'automatic placements'. AP will optimize ad delivery within the Facebook suite of apps and services.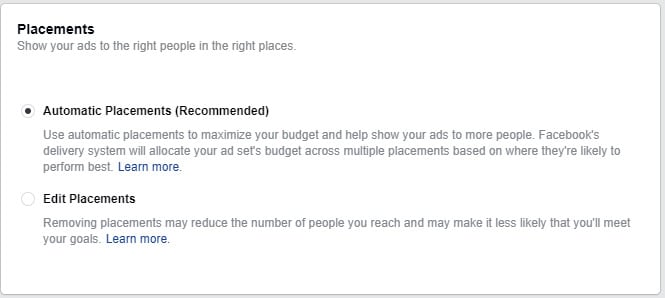 Should you use Automatic Ad Placements in Your Campaign?
Opting in: This will maximize your reach, drive media efficiencies while the ad is displayed across multiple platforms.
Opting out: Predictable delivery by platform, dedicate budget and maximize reach with standalone Instagram Stories campaigns.

Instagram Stories Ads Tests to Run
Stories Alone: Test the Impact of Stories on brand and DR objectives as the placement scales.
Stories + Feed: Test both ad placement options—In Feed and Stories—both separately and combined.
Optimize Ad Placement: Understanding how Placement Optimization can drive outcomes.
Creative: Custom vs. Adapted (i.e. vertical) & more short-lived vs. polished.
Stories Carousel: Test Multi-Card Carousel Ads against a Single Card (Image) ad.
Instagram Ad Targeting
All of Facebook's targeting options are also available for Instagram advertisers. Targeting includes location, demographics, interests, actions, and more.

The only targeting options that are required are country, age, and gender. Layer in other targeting options if you want to get more precise about the types of people you want to see your ads. Targeting your Instagram ads to a Custom Audience or Lookalike Audience are other available options.

Location
Geo Target your customers by country, state, zip code, or the surrounding neighborhood around your business.

Demographics
Define audiences by factors such as age, language, and sex.

Interests
Choose from literally hundreds of interest categories such as fitness and wellness, entertainment, food and drink, sports and outdoors.

Behaviors
Target your customers based on the things they do, such as past buying behavior, smartphone model, or lifestyle aspirations.

Connections
Target the people who have liked your page or have installed your app their friends as well.
How to Create and Buy Instagram Ads
1. Using Ads Manager
You can use Ads Manager to create, view, edit and access your campaigns, ad sets, and ads. Ads Manager also provides you with performance reports.

Creating your ad in Ads Manager
 In Ads Manager click Create an Ad.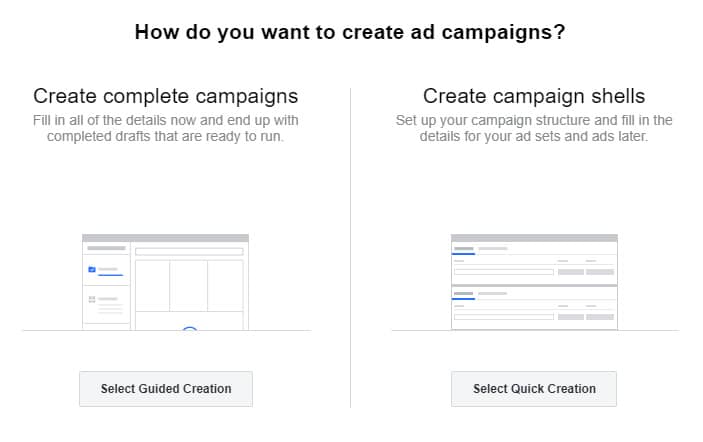 Make sure you choose an objective that meets with your business goals. Be sure to select an objective that is available for Instagram ads.

 Define which audience you want to view your ad.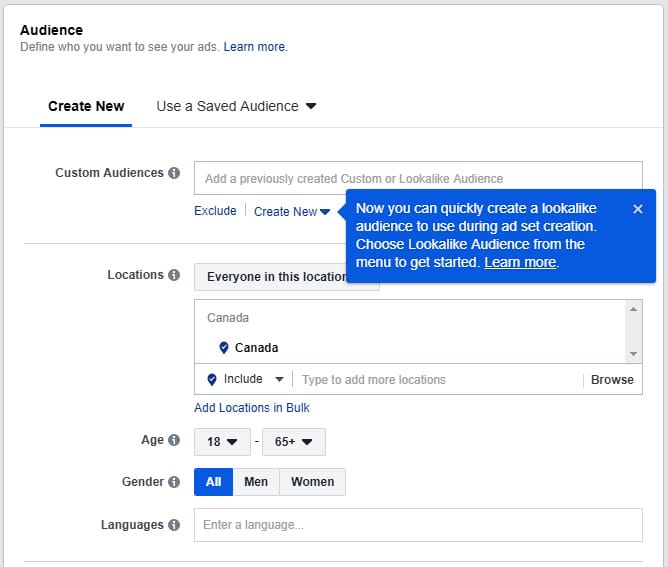 Choose a placement option. The Automatic Placements option is recommended to maximize your budget while showing your ad to more people. This enables your ad to be shown to audiences across platforms including Facebook, Instagram, Audience Network, and Messenger.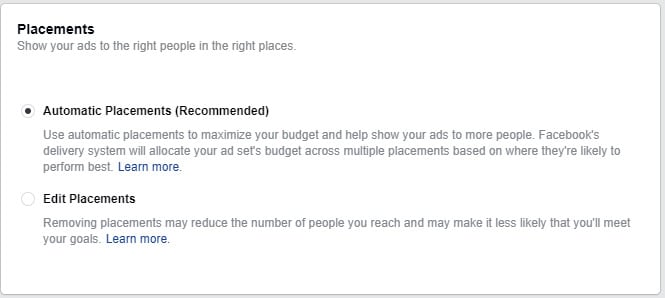 Set budget and schedule your ad. The 'how much' and the 'when'.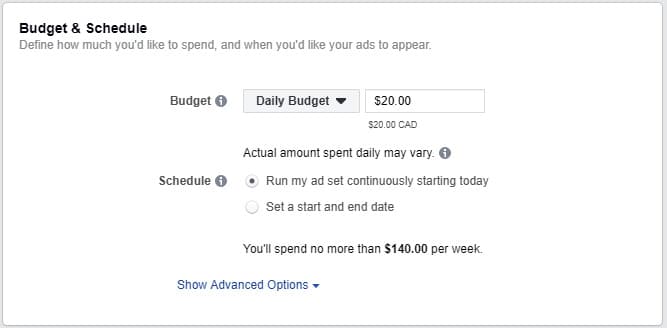 Pick your ad format. Advertising on Instagram's newsfeed allows you to choose between photo, video, carousel, and the slideshow format. Instagram Stories ad placements only allow you to choose between a single image or video.

 Log in under the Instagram Account heading to ensure that your Instagram account is connected. If you don't have an Instagram account, you can run Instagram ads via your Facebook Page.
Choose your ad creative and fill out the URL and description for each card.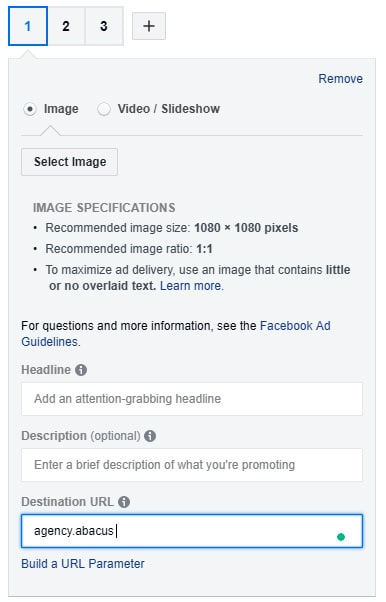 Now you're done! Click Place Order to launch your ad.

2. Create Your Instagram ad with Power Editor

"Power Editor is an advanced tool that helps businesses efficiently manage multiple campaigns and ads on Facebook. You can create, edit, manage and optimize ads, campaigns, and Page posts in bulk, across a large number of different ad accounts and Pages."

You can purchase Instagram ads and utilize other powerful features available in Power Editor. Create a campaign in Power Editor. You'll need to select an objective that is available for Instagram ads.

Instagram placement at ad set level
Now you can select placement options at the ad set level. Facebook recommends that you go with the Automatic Placements option in order for your ad to be shown to audiences across the best performing platforms (including Facebook, Instagram, Audience Network, and Messenger).
Otherwise, choose Manual Placements so that you may edit and choose your own placement options.

Instagram ad creation
In order to create an ad on Instagram, you will need the following:
 Your ad copy and photo or video.
 Your website URL or App ID info.

Note: Instagram only requires a caption with your photo or video. The remaining fields are for Facebook ads. Use the cropping tool if you want to convert your images to the square format.

Adding your Instagram account in Power Editor
 To add your business's Instagram account, select your Facebook Page, and click "Add an account."
Insert your the username and password for your Instagram business account.
Your business's Instagram account name and profile picture will now show up beneath the "Instagram Account" heading.
3. Use a Facebook Page to Buy Ads on Instagram
You can run ads on Instagram using your Facebook Page—even if you don't have an Instagram account.
The Facebook Page will be used to identify your business in your Instagram ads (profile image and handle). This option will only give you a partial subset of Instagram ad features.
It's recommended that you create an Instagram business account to experience the full range of features available to you on Instagram.
4. Partner up with an 'Instagram Partner'
Facebook's Instagram Partners (IGPs) are authorities at combining skilled experts with tech to get you great results on the platform. Partners can aid you with everything buying ads to delivering creative at scale. Instagram Partners are a vetted list of companies with proven expertise.
An Instagram Partner will help drive business impact utilizing advanced technology and tools.
Manage your campaigns—every step of the way—more efficiently with their added expertise and resources.
Instagram Measurement Solutions
You are able to measure the performance of your Instagram ads in the same way that you measure Facebook Ads. Campaign reports can be viewed in both Ads Manager and Power Editor.

First Party Facebook Solutions
Life Test / Split Test
Running split tests within your ad campaigns allows you to test different ad versions so you can double down on the winning ads and eliminate the lesser performing ad sets and improve future campaigns.

You could:
 Run the ad in front of different audiences to see which ad performed better.
 Test two delivery optimizations to determine which version delivers better results.
 A good time to initiate a split test could be when you're making an edit to a currently active ad set. You'll be able to immediately see the effectiveness of your edits.

After you save the edits your ad set, Facebook will prompt you to create a test.

Third Party Solutions
Facebook has a list of partners that they use for third-party 'Ad Viewability Verification'.  Their Business Solutions Explorer has a list of Measurement Partners.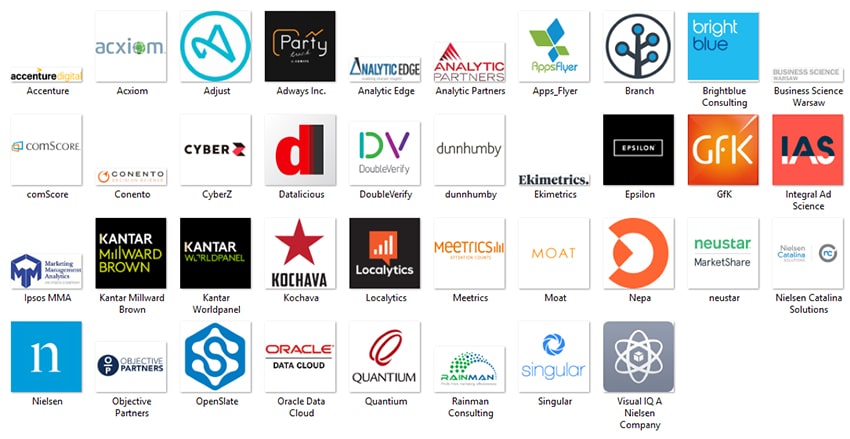 Data Analytics and Attribution companies include: AppsFlyer, Visual IQ, A Nielsen Company, Datalicious, Neustar MarketShare, Adjust, dunnhumby, Kantar Worldpanel, Kantar Millward Brown, Integral Ad Science, GfK, Moat, CyberZ, comScore, Localytics, Oracle Data Cloud, Quantium, Epsilon, Kochava, Acxiom, Rainman Consulting, Analytic Partners, Objective Partners, Nepa, Ipsos MMA, Ekimetrics, Brightblue Consulting, Analytic Edge, Nielsen, Accenture, DoubleVerify, Meetrics, Branch, Adways Inc., Singular, Nielsen Catalina, Solutions, and OpenSlate.

Now you've seen the benefits of using one of the most powerful visual and immersive ad platforms on the web. A platform that 500 million people use daily.

 We've helped a lot businesses with Instagram Ads. Do you want to be next? Contact us here to get started.