Are the recent changes to privacy in Apple's iOS 14.5 going to destroy your Facebook and Instagram Campaigns?
On April 20, 2021, Apple's latest iOS 14.5 software update for mobile devices was made available to the general public. The update introduces privacy features that are intended to go the extra mile towards protecting the privacy of customers on their network.
One of the big changes being phased in with the latest iOS update has to do with data sharing. Currently, if you want to turn off data sharing on your iPhone, you can go to Settings > Privacy and switch off that function.
With the iOS 14.5 update, users will be prompted to make that decision anytime an app is downloaded from Apple's App Store. Users will see a pop-up asking if they'd like to grant the app permission to track activity across apps and websites owned by other companies, with the choice to opt-in or out.
The fear that marketers have is that, given the choice, most users will choose to opt-out of being tracked across the internet. This puts Facebook, Advertisers and Businesses in a precarious position, because Faebook relies heavily on that data to measure the effectiveness of your campaigns to generate desired conversions and interactions.
This update will apply to all Facebook-owned apps in Apple's App Store, including their core app, Messenger, Instagram, and WhatsApp. Additionally, it will impact apps that use Facebook's Audience Network for monetization.
What's new with iOS 14.5?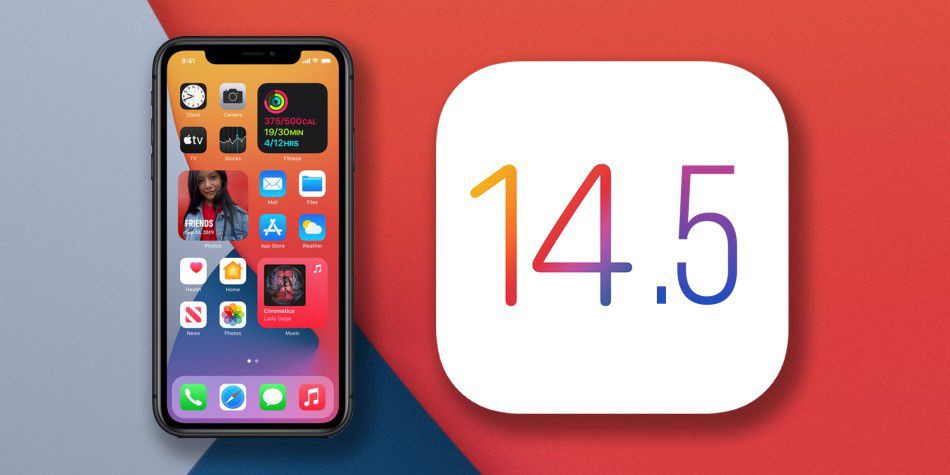 The primary method advertisers have at their disposal for tracking conversions in their paid ad campaigns, like sign ups and purchases, is the implementation of 'tracking pixels' embedded in the code of the landing pages the ads use as a destination.
The Facebook Pixel and Google Analytics Tracking Code effectively operate the same, in that they both 'track' a website visitors time and interactions on a website so that goals can be tracked against it, and help to properly attribute user interactions to the ad that is responsible for that interaction.
Businesses can place as many pixels as desired on their website for as many marketing campaigns currently active. Typically, you want to add pixels to every page of your website to track all of the conversions that page generates.
In a nutshell, iOS 14.5 will require apps in the App Store to obtain permission from users to track them using Pixels across apps and websites for advertising and measurement purposes. In other words, users of Apple devices will now have the ability to 'opt out' of having their website interactions logged by various tracking Pixels installed on websites for the purposes of attributing conversions to paid ad campaigns.
Apple's plan for accomplishing this is by introducing what they're calling an AppTrackingTransparency framework, a series of protocols that app developers must implement within their apps as part of the terms of service for being listed in the App Store going forward. Apple summarizes the function of the framework in the most succinct way possible:
 The AppTrackingTransparency framework presents an app-tracking authorization request to the user and provides the tracking 
authorization status."  [1]
If you're an app developer and need to update your app to meet this new App Store requirement, you can follow the steps on Apple's website here. (https://developer.apple.com/documentation/apptrackingtransparency)
What are Facebook & Instagram doing in response to the iOS 14.5 update?
Facebook's response is the implementation of new protocols of their own in an effort to comply with Apple's Transparency framework, which includes Apple's 'SKAdNetwork API', as well as an in-house solution, Facebook's 'Aggregated Event Measurement.' [2]
Apple's API is required by ad networks to install on their platform in order for advertisers to continue attributing iOS mobile app installations back to paid advertising, which accounts for user opt-in or opt-out verification. [3]
Facebook's 'Aggregated Event Measurement' solution allows for continued measurement of web events from iOS 14.5 devices, with a large caveat that will be brought up later.
According to Facebook, these newly added protocols will "restrict, aggregate and delay reporting, while continuing to enable the measurement of campaign results, with limitations." [2]
What changes can you expect to see in Facebook's backend after iOS 14.5?
What are some of these 'limitations' you ask?
Get comfortable, the list isn't short.
The major changes businesses and advertisers can expect to see within Facebook Ads Manager fall under 4 major categories: Campaign-Level, Custom Audiences, Attribution, and Reporting / Testing
Campaign-Level
To continue to reach iOS 14.5+ users for the purposes of Mobile App Install campaigns, you will be required to create separate iOS 14 app install campaigns with one ad account per app, nine campaigns per app and five ad sets per campaign of the same optimization type.
iOS 14.5 app install campaigns are not available for Reach and Frequency buying.
If you use web events to optimize and measure your campaigns, you are now limited to optimizing for no more than eight events on each domain you own. Ad sets that are optimizing for a pixel conversion event that is outside of the 8 events made available to you, will be turned off.
Once your campaign is published, you can't turn on or turn off the iOS 14.5 campaign toggle. You'll have to turn off or delete your campaign.
You can use the following campaign bid strategies, lowest cost, cost cap, minimum ROAS or bid cap. However, if you choose the cost cap or minimum ROAS bid strategy, your ad set should be scheduled to run at least 3 full days.
Custom Audiences
Events from iOS 14.5 devices that opted out of the Apple prompt on Facebook cannot be used to include users in Website Custom Audiences.
Custom Audiences can no longer be made for optimization events outside of the 8 conversion events your account will be permitted.
Mobile app custom audiences for inclusion are no longer available.
Attribution
Long attribution windows where Facebook won't have full event data will no longer be supported. 28 day click-through, 28 day view-through, and 7-day-view through, are no longer supported.
Facebook is also  introducing modeled reporting for a 1-day click-through attribution window that accounts for events no longer reported. To adjust for data sharing limitations, Facebook will stop using  modeling for 7-day click through and 1-day view through attribution windows. You can expect reporting for these attribution windows will be partial and not include all events.
Data-Driven Attribution, the ability to assign fractional credit for a conversion to Facebook touchpoints based on their estimated incremental impact, will also no longer be available for iOS 14 app install campaigns.
Ads Reporting & Testing
Delivery and action breakdowns are not supported for offsite conversion events. This includes demographic breakdowns such as age, gender and region.
Lift Measurement will not be allowed for iOS 14 Mobile App Install and Mobile App Events campaigns.
Self-serve conversion lift, also known as Holdout Tests in the Experiments tool, will no longer be available.
The ability to measure the incremental impact of both Facebook and another publisher's advertising through the Cross-publisher conversion lift beta will no longer be available.
For a more detailed list of all the changes being made and limitations being applied to Facebook's Ads Manager and Ads Reporting, visit 'How Apple's iOS 14 release may affect your ads and reporting' (https://www.facebook.com/business/help/331612538028890?id=428636648170202).
What does all this mean for advertisers?
With Facebook no longer being able to track the web behaviours of a majority of Apple device users after iOS 14.5, the first thing you're likely to notice is a decrease in conversions for active campaigns and an increase in associated conversion costs.
Audiences that are targeting both iOS and Android devices are likely to shrink causing some of your Ad Sets to enter the 'Limited Learning' Phase (where the Ad Set isn't generating enough Optimization events to exit the Learning Phase).
Ads Reporting will also be impacted by the update. Because the data won't include users who denied permission for tracking and will only track a small number of objectives, reports will be either inaccurate or extremely difficult to reconcile with other reporting and attribution platforms.
And as if all of this wasn't a massive pain point for advertisers already, the real hassle for most will be the new campaign requirements and restrictions that will warrant having to rebuild many campaigns, and in some cases, an entirely new Ad Account. The investment in time cannot be understated here, which is why Facebook is strongly urging advertisers to act right away.
What steps can you take to mitigate disruptions to your Facebook paid ad campaigns with iOS 14.5?
If your business has ad campaigns running on Facebook and Instagram, or have plans to do so  in the near future, there are several steps you can take to reduce or eliminate any disruption in campaign delivery, and mitigate any loss of data visibility when reporting and attributing conversions.
Step 1: Consult Resources in Facebook Business Manager
Facebook has a couple of resources you can tap for guidance on how to navigate the changes resulting from the iOS 14.5 update. Our first recommendation to businesses and advertisers actively running campaigns on Facebook & Instagram is to consult these sources:
Resource Center tab in Facebook Ads Manager (available on Desktop only): 
The 'Resource Center' tab in Facebook Ads Manager has a customized list of actions for each ad account to help prepare and comply with the changes associated with iOS 14.5. Take a look now and see if any actions are flagged, and be sure to take action immediately.
Ads Ecosystem Hub: 
The Ads Ecosystem Hub is a website located in the 'Facebook for Business' resource centre aimed at being a comprehensive guide for businesses and advertisers, "evolve your advertising strategies based on the technical changes emerging from mobile operating systems and web browsers." You can visit the Hub here: https://www.facebook.com/business/learn/ads-changes/guide
Event Measurement:
We've given advertisers tools to toggle and prioritize which app events are to be used for ads, in line with their legal commitments and platform terms for data privacy and data use. [2] This tool can be accessed by clicking on 'Events Manager' within Facebook Ads Manager.
Step 2: Update your App SDKs & Prepare New Ad Accounts if Needed
If you run App Install campaigns for iOS applications, make sure the Facebook SDK is updated to version 8.0 or above. And if you work with a Mobile Measurement Partner, be sure to confirm you're using the version of their SDK that supports Apple's SKAdNetwork API.
Plan to create iOS 14 app install campaigns with one ad account per app, nine campaigns per app and five ad sets per campaign of the same optimization type. Set up your conversion schema in Events Manager to optimize for App Events, Value and Mobile App Installs with Automated App Ads. [2]
Step 3: Verify Your Domain in Facebook Ads Manager 
Facebook is requesting all businesses verify their domains in an effort to prevent the misuse of ad accounts. In the verification process, your webmaster will be given a code to put on your domain. Facebook has recently said that verifying your domain will ensure that data still being collected by your pixels is accurately delivered to Facebook.
To verify your domain, log into your Facebook Business Manager account, scroll down to 'Brand Safety', and select 'Domains'. You want to verify your domain (your website URL). You can also find a prompt to verify your domain with Ads manager, by visiting the Resource Center.
Step 4: Install and Enable the Conversions API
The primary solution Facebook is endorsing in an attempt to combat the Pixel-less future that almost seems inevitable, is a tool they developed called the Conversions API, or CAPI.
What the API does is share key web and offline events, or customer actions, directly from the business' website server to Facebook. The API is installed on the server where the website lives, and works in tandem with the Facebook Pixel to help improve the performance and measurement of your ad campaigns.
In a way, the API attempts to pick up all the interactions now being missed by the Pixel, while both continue to send information back to Facebook to deliver a performance snapshot as accurate as possible
For more information, visit their Help Center page here (https://www.facebook.com/business/help/2041148702652965?id=818859032317965).
Step 5: Set up and prioritize up to eight web events per domain in Aggregated Events Manager.
At first you'll find 8 pre-assigned events by Facebook, with the events chosen being the ones they believe, "matter most to your business based on recent campaign spend from all of the ad accounts advertising to that domain." [8] There are stops you can follow by following the link here (https://www.facebook.com/business/help/422408905612648). However, Facebook notes that their  enforcement of Aggregated Event Measurement requirements will only take effect once Apple begins enforcing its iOS update policies. At which point, modification to events will automatically pause ad sets that are impacted by the event changes for 72 hours. [8]
When selecting your events, Facebook suggests that you choose interactions that will send the data that is most valuable to your business objectives you're trying to accomplish. Facebook states:
We recommend that you identify the 8 conversion events most important to critical business outcomes and assess if changes need to be made to your campaign or measurement strategy. You may need to consider if you'll be required to optimize for upper funnel objectives like landing page views and link clicks. When you create your ad set you'll choose only one of the 8 designated conversion events to optimize for. [8]
Keep in mind that these are the only events you will be able to use for campaign optimization and retargeting, so choose wisely. Event 'slots' are also to be mindful of. According to Facebook, most Events only take up one slot, with the exception of Purchases using Value Optimization, which take up four slots.
Step 6: Segment Audience Targeting by Android and iOS Users
This is more of an optional tactic, but one of the first actions you can take as an advertiser to begin building campaign ad sets that target Android devices only. For now, only consumers using Apple devices will become more difficult to track using Pixel data.
Android users should remain unaffected for the foreseeable future. Because the data being generated from iOS devices will be incomplete, segmenting your audiences by device makes sense from an analysis standpoint. You can still report on the complete picture for Android devices, and the partial picture for Apple devices.
Step 7: Consider Using an Attribution Modelling Platform
To supplement data and insights you receive from Facebook Ads Manager, one thing you may want to consider doing is setting up your various ad accounts and channels with an attribution modelling and analytics platform.
A good example of this is the 'Wicked' Attribution tool (wickedreports.com), which tracks multi-channel clicks and reports them against identified leads and sales on an ongoing basis, continually and dynamically updating to display real-time results whenever you need them. The 'Wicked' platform can determine when a campaign generates new leads or has converted an existing lead, automatically constructing a customer journey based on clicks, CRM events, and Sales conversions data it accumulates from dozens of sources.
More specifically, the 'Wicked' Attribution tool collects first-party CRM and sales conversion data, in addition to the channel, platform and campaign data collected in other measurement tools, and applies a variety attribution models to show you the true value of your ad campaigns and detect important conversion data points automatically. 'Wicked' attributes all revenue back to the campaigns that generate leads, so you can identify which channels are ROI positive over time. The integration of dozens of channels will give your business 'big picture' visibility of all your marketing efforts, identifying the tactics that are best at targeting high value customers.
Another great platform to consider is TrialFire (trialfire.com), another analytics platform that functions to amalgamate data from all your marketing channels into one place for the purpose of drawing insight. Trialfire is unique to Wicked Reports in that it is more focused on the individual, tracking each individual across their unique path-to-purchase. These paths are continuously analyzed to determine which touch-points increase conversions, and then each touchpoint is then given a value based on their marginal contribution to conversions. Trialfire employs an advanced 'game-theory' attribution model when evaluating paths and touchpoints, meant to account for user unpredictability. You can learn more by visiting their website.
Conclusion
The iOS 14.5 update presents a fairly daunting challenge to both marketers and businesses alike, but not one that is impossible to overcome.
Our ability to target users, generate leads and purchases, and measure conversions from Facebook ads will undoubtedly be affected, but the steps outlined in this article can help to mitigate some of this loss. And with the introduction of new tools like Facebook's Conversion API, and others that are sure to come, we have a means of collecting data that would otherwise be missed by website Pixels.
The true impact of the iOS update is still largely unknown. Apple has a history of high adoption rates once a new OS rolls out, so we'll probably find out sooner rather than later just how big an impact this will have.
This isn't the first time the marketing industry has had to quickly adapt to a major change, and it likely won't be the last.
Sources