Mobile ads account for 70% of all digital advertising. Further to that – they will account for 34% of total US ad spend surpassing TV as the leading advertising format. Let's break down nine factors that you should take into consideration before launching your mobile ad campaign.

1. Vertical
You need to think vertical in 2019 because upwards of 90% of social media traffic is mobile. Vertical looks good on mobile phones and blurs the lines between ads and content. Turning your screen screams "ad".
Note: "on 17 September 1930 Russian filmmaker and theorist Sergei Eisenstein addressed the Technicians Branch of the Academy of Motion Picture Arts and Sciences in Hollywood, calling for a cinema screen of variable aspect ratio (a "dynamic square"), one which would be able to cope with whatever compositional format the filmmaker chose, including a vertical framing." [source].
It turns out, Eisenstein was 9 decades ahead of his time.
2. Thumb-Stopping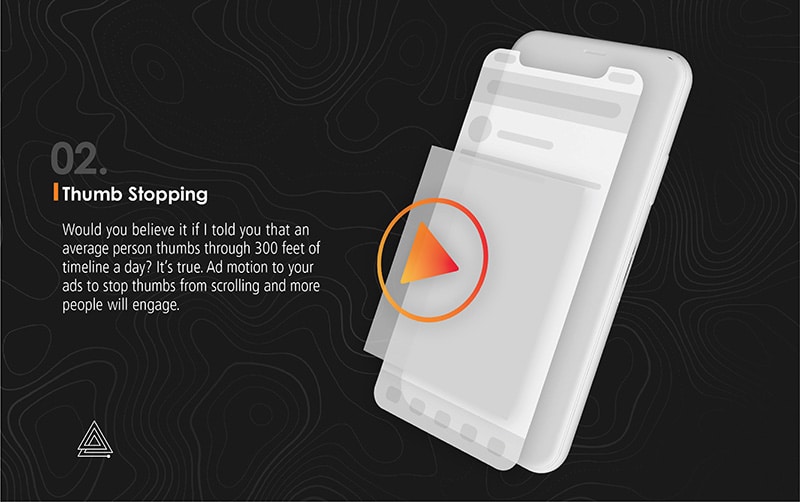 Would you believe it if I told you that the average person thumbs through 300 feet of timeline a day? It's true. Ad motion to your ads to stop thumbs from scrolling and more people will engage.


*To put that in perspective the Statue of Liberty reaches 305.10 feet including the pedestal. So – a lot of scrolling…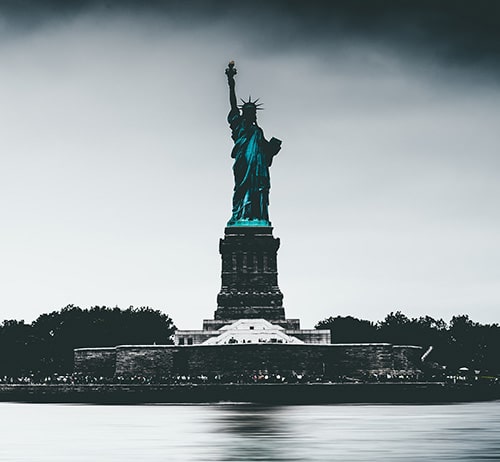 3. Frame for Mobile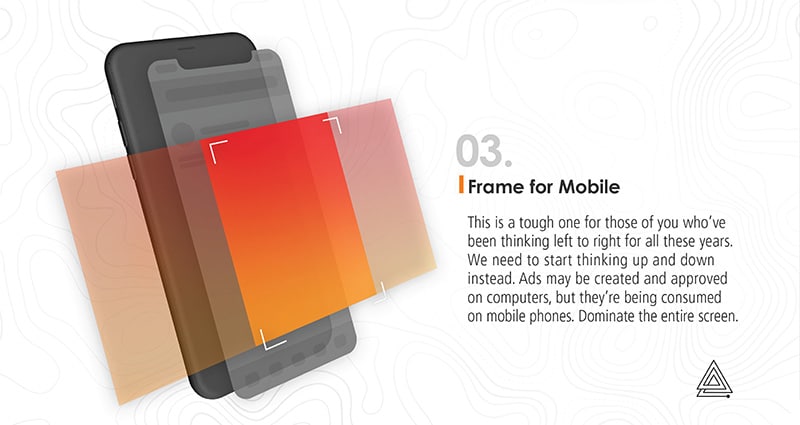 This is a tough one for those of you who've been thinking left to right for all these years. We need to start thinking up and down instead. Ads may be created and approved on computers, but they're being consumed on mobile phones. Dominate the entire screen.
Ideally for Facebook and Instagram you want to be designing creative in the square format (1:1) at a minimum and in the vertical format (4:5) for the best results.

Here's a quick look at design specs for Instagram ads.
Video Design Specs
Min Dimensions
600 x 600 px (1:1 square)
600 x 750 px (4:5 vertical)
Max Dimensions: 1936 x 1936 px
Photo Ad Format Design Specs
Image Ratio: 1:1 (square) /  4:5 (vertical)
Min Resolution:
600 x 600 px (1:1 square)
600 x 750 px (4:5 vertical)
Max Resolution: 1936 x 1936px
Min Resolution:
600 x 600 px (1:1 square)
600 x 750 px (4:5 vertical)
4. Fast Paced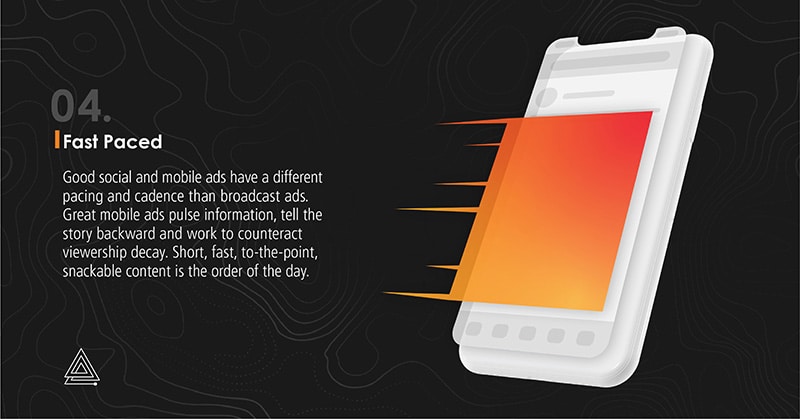 Good social and mobile ads have different pacing and cadence than broadcast ads. Great mobile ads pulse information, tell the story backward and work to counteract viewership decay. Short, fast, to-the-point, snackable content is the order for the day.
5. #PlayMore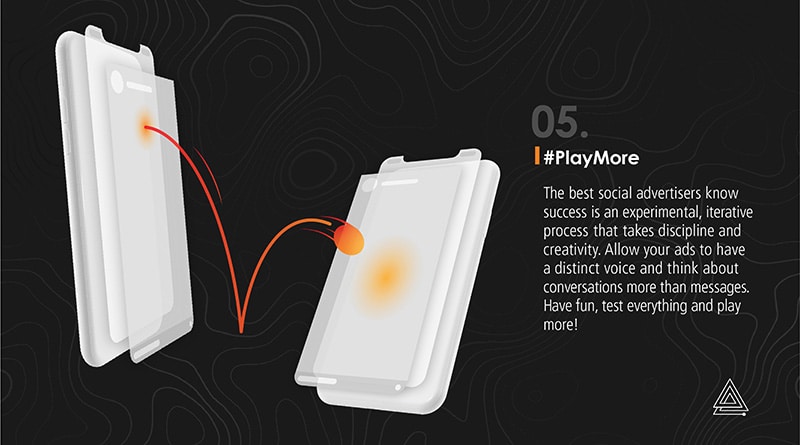 The best advertisers know success is an experimental, iterative process that takes discipline and creativity. Allow your ads to have a distinct voice and think about conversations more than messages. Have fun, test everything and play more!
6. The Abacus 1/5/8 Second Rule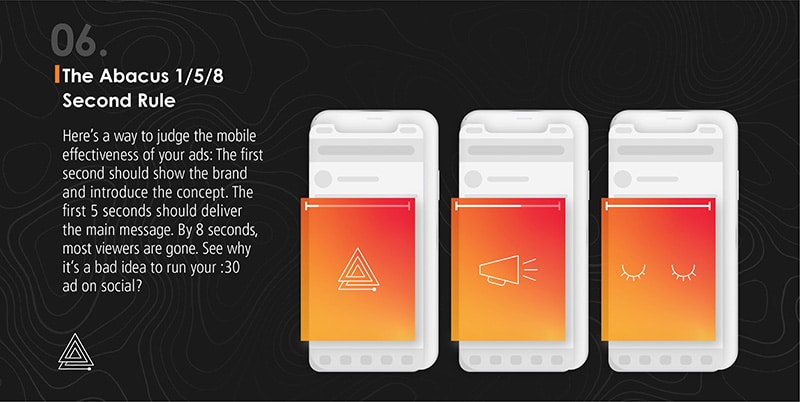 Here's a way to judge the mobile effectiveness of your ads: The first second should show the brand and introduce the concept. The first 5 seconds should deliver the main message. By 8 seconds, most viewers are gone. See why it's a bad idea to run your :30 ad on social?
Today the relationship between media and creative is in a crisis. Good social media buyers need dozens and dozens of assets with multiple versions of each. The assets need to be social first and optimized for feed.

That basically means it needs to follow the "Abacus 1/5/8 Rule" meaning 1 second to stop their thumbs, 5 seconds to deliver the payload, and assume they're gone by 8 seconds. They also need to be right format and quantities for feed; we didn't make this up – it's based on ALL social video consumption Facebook.

–Jeff Goldenberg, Co-Founder and CSO of Abacus
7. The First Second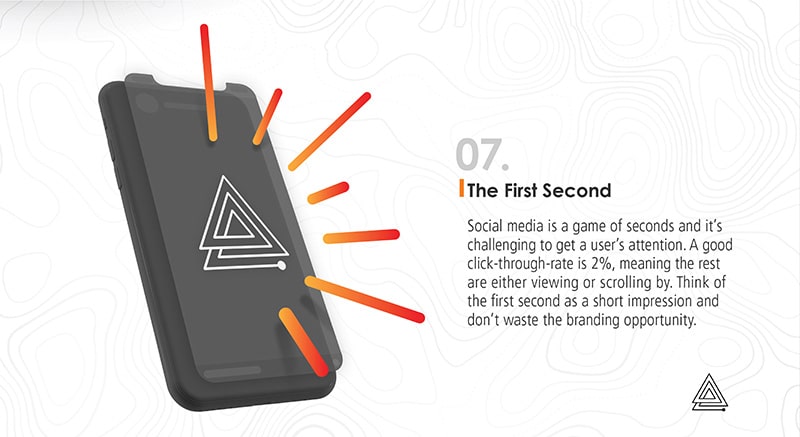 Social media is a game of seconds and it's challenging to get a user's attention. A good click-through-rate is 2%, meaning the rest are either viewing or scrolling by. Think of the first second as a short impression and don't waste the branding opportunity.
8. Conversion Focused and Tracked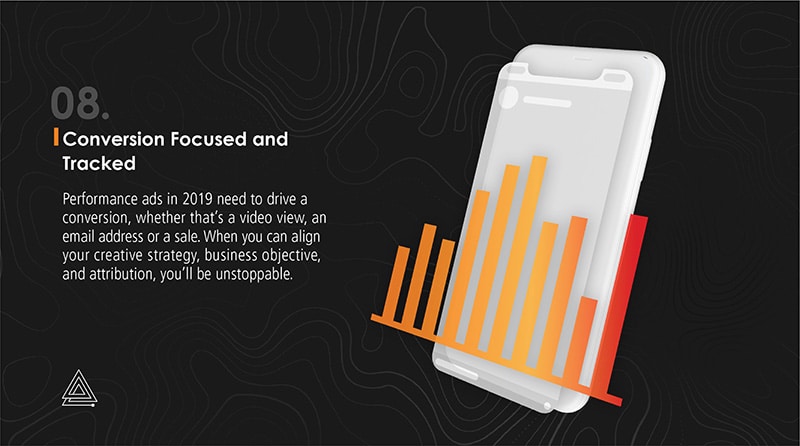 Performance ads in 2019 need to drive a conversion, whether that's a video view, an email address or a sale. When you can align your creative strategy, business objective, and attribution, you'll be unstoppable.
9. Design for Sound Off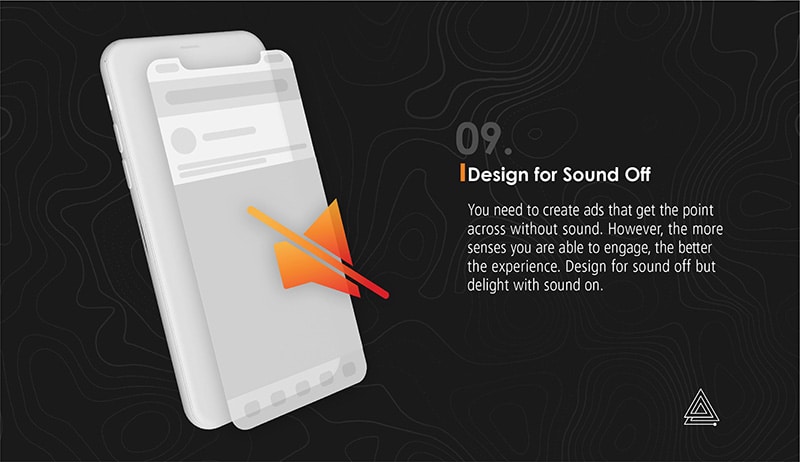 You need to create ads that get the point across without sound. However, the more senses you are able to engage, the deeper the experience. Design for sound off but delight with sound on.